Partners in Craft: The Story Behind an Imperial Coffee Stout Collaboration
Today we learn about collaboration in action, with a new imperial coffee stout using coffee from Silverskin Coffee Roasters.
BY VASILEIA FANARIOTI
SPECIAL ONLINE CORRESPONDENT
Photos courtesy of Silverskin Coffee Roasters
Allow us to virtually travel to Dublin, Ireland, where coffee is meeting beer and whiskey in a new creative collaboration between Silverskin Coffee Roasters, Porterhouse Brewing Co., and Dingle Distillery. The trio has teamed up to create a one-of-a-kind coffee stout; this unique brew combines the robust flavors of cold-brewed coffee with the dark richness of a stout and notes of bourbon.
They're preparing to host a special tasting event, where guests will have the opportunity to experience the story behind this unique beverage. We reached out to them to find out more about the process behind creating the delicious drink, and also to discover what is takes to successfully collaborate and create a product that consumers love.
Creating an Imperial Coffee Stout
The brewing process took 24 hours to ensure that the malt flavors were concentrated and other complex flavors developed. Ground coffee from Finca Las Amapolas in Guatemala was added at the end of fermentation, giving the beer its coffee taste. To enhance the flavor further, the beer was aged for nine months in Dingle Distillery bourbon casks. Lastly, a cold brew from the same coffee was added to the conditioning tanks before canning.
Dave Cummins, brand ambassador & sales manager for Porterhouse Brewing Co. & Dingle Distillery, explains that their goal was to create a new unique stout recipe. "We wanted to enhance consumer experience, so we met up with Silverskin, sampled a few coffees, and came to an agreement on which coffee bean would best suit this stout. Customers love local collabs and products that have an added value and a story behind them, and we wanted to offer them that."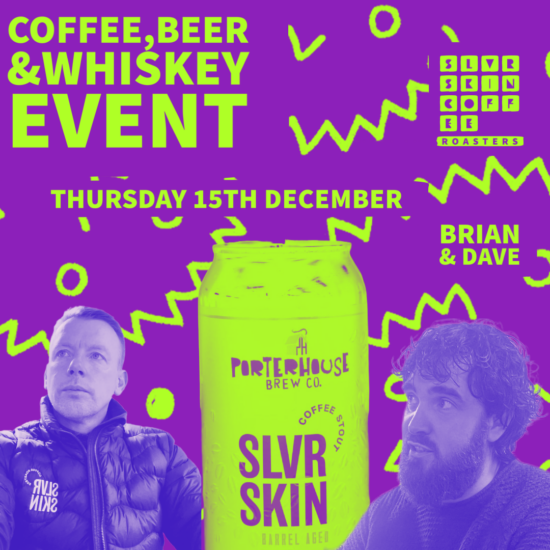 At 13% ABV, the barrel-aged stout is rich and punchy, full of coffee flavor and aroma. The special tasting event on December 15 will showcase the beer. "We will take customers on a sensory journey through the process of how the stout was created by doing a deconstruction of it. They will get to taste each component and learn the story behind it as well. We can't wait!" Dave says.
Joining Forces for Delicious Results
This is not the first time the three companies have collaborated. A few years ago, Porterhouse Brewing Co. approached Silverskin Coffee Roasters with an idea to create a breakfast stout using their coffee. The beer brewers were looking for a unique way to add complexity and depth of flavor to their existing stout recipes. They felt that the rich and intense flavors of coffee would be the perfect addition.
The result of this collaboration was Up & At 'Em, a rich breakfast stout made with El Roble coffee, from the Salaverria family estate in El Salvador, produced exclusively for Silverskin. The stout went on to win the silver medal in the Dublin Craft Beer Cup. Not long after, Dingle Distillery, owned by the same guys as Porterhouse Brewing Co., provided Silverskin with a Pedro Ximenez sherry cask; the team used it to age coffee for 209 days to create their 209 whiskey-aged coffee.
Brian Kenny, director at Silverskin, explains the process: "We added 5 kilos of Finca Palmichal Colombia and aged the coffee for 209 days. This soaked into the cask in a temperature-, moisture-controlled environment. We used humidifiers to keep the temperature and humidity stable. The result has been a huge success with our customers!"
The Power of Successful Collaborations
Collaborations between businesses can be incredibly rewarding, and can create products that are unique to the market. And each of these companies has found success in their collaborations. They say that it comes down to building a strong relationship with one another, respecting each others' craft, and having trust in their abilities.
Brian of Silverskin points out that the most important element for creating a successful cross-branded product is people. "The same can be said of any relationship, for that matter," he says. "The communication and openness of the guys has been the key to our synergy."
The collaboration between Porterhouse Brewing Co., Silverskin Coffee Roasters, and Dingle Distillery is an example of how businesses can work together to create unique, high-quality products that customers love. They're continuing to push the boundaries of whiskey, beer, and coffee together, with another product to be released next year.
If you wish to attend the tasting event in Dublin, you can grab tickets here. All proceeds from the event will be donated to two of Dublin's hospitals: National Maternity Hospital and Temple Street Children's Hospital.
ABOUT THE AUTHOR
Vasileia Fanarioti (she/her) is a senior online correspondent for Barista Magazine, and a freelance copywriter and editor with a primary focus on the coffee niche. She has also been a volunteer copywriter for the I'M NOT A BARISTA NPO, providing content to help educate people about baristas and their work. You can follow her adventures at thewanderingbean.net.
Source: Barista Magazine