Nick Berardi's Coffee Passion Leads to Roasting Victory
The head roaster at Mostra Coffee in San Diego is the 2022 U.S. Roaster Champion.
BY CHRIS RYAN
BARISTA MAGAZINE ONLINE
Cover photo courtesy of Matthew Temple for U.S. CoffeeChamps
From the editor: Recently, we've been interviewing the 2022 U.S. CoffeeChamps as they make their way to the World Coffee Championships later this year. Today, we wrap up our series with the newest U.S. Roaster Champion Nick Berardi.
Nick Berardi had never competed in a roasting competition before taking part in the 2020 U.S. CoffeeChamps qualifier in Long Beach, Calif. He was relatively new to roasting, but he performed well enough to qualify for the U.S. Roaster Championship. While the COVID-19 pandemic canceled that competition, Nick continued to roast daily at San Diego coffee company Mostra Coffee, eventually moving up to head roaster.
When the U.S. Roaster Championship returned in 2022 at the Specialty Coffee Expo in Boston last month, Nick was ready for the competition, which includes green grading, planning a roast, and executing that roast. Nick performed excellently to become the 2022 U.S. Roaster Champion; he advances to the World Coffee Roasting Championship, taking place next month in Milan, Italy. We talked to Nick about getting excited about coffee, loving your job, and more. 
Chris Ryan: How'd you get interested in specialty coffee, and how long have you been in the industry? Did you have other coffee jobs before roasting?
Nick Berardi: Back around 2009-2010, I was cooking fine dining in Columbus, Ohio. I loved the challenge of precision, pace, and intensity, but wasn't built for the rigors of the lifestyle. I would occasionally disc golf with a former supervisor from a café group I'd spent years at, and he was telling me about this place with great coffee he was joining. He was able to bring me on to Brioso Coffee as a barista, my first experience in "third wave."
After being there a couple of years, it turned out that I still needed a change of scenery. Once again, an old coffee friend came in clutch, this time in the form of Heather Brisson-Lutz being able to get me a part-time production job at Bird Rock Coffee Roasters in San Diego. My dog and I packed up the car for the West Coast, and in my time at BRCR Heather and (founder) Chuck (Patton) taught me a lot and gave me lots of room to grow. I feel like I took advantage of that opportunity, going from bagging coffee and doing deliveries to working in sourcing, roasting, training, wholesale support, sales, logistics, web management, and some other behind-the-scenes stuff.
I took a break from coffee after a foray into its corporate world, but ended up behind the bar at Mostra once again slinging shots—I just kept getting drawn to coffee. I re-cut my teeth roasting more than I ever had when Mostra needed all hands on deck for a huge order for a brewery, and I really found a groove.
What drew you to roasting, and what do you like about doing it at Mostra?
I don't know that I'm drawn to roasting in particular so much as I just really, really like coffee and find all facets of it fascinating. I guess the thing I like most about roasting is that I get to do it at Mostra. It's a second family. This company was founded on the goal of striving to eliminate poverty in the owners' ancestral home of the Philippines by four people with backgrounds of an opera singer, an actress, a chef, and a veteran/HR-wizard—not a lot of coffee experience in sight, but they saw it as the best vehicle to achieve their goals. Well, they had something very special built by the time I joined the team, and it was that constant of always contributing that really drew me in. It's tough to distill, but I guess there is a measured fearlessness and always trying to give that extra extra.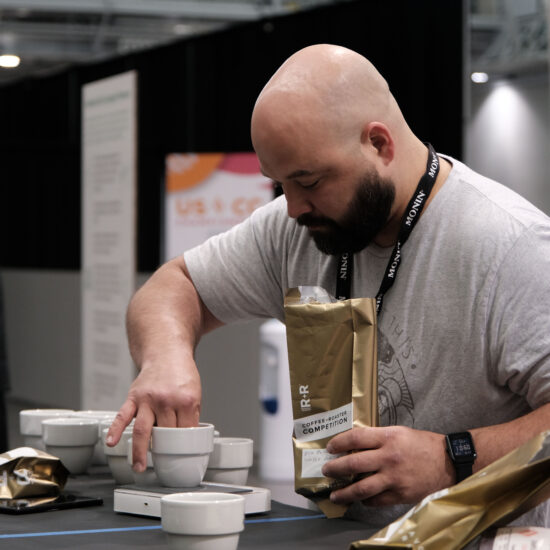 You competed in the prelims of the Roasting event in 2020 and then in the 2022 U.S. Roasting Championship. Was this your first time competing nationally? What drew you to competition initially, and what are some of the elements you like or don't like about it?
Competing in preliminaries in Orange County, early 2020, was my first time competing as a roaster. I'd entered some throwdowns and done some SCA-style barista comps before, but never participated in a sanctioned competition. Entering Orange County in February 2020, I was coming in as basically having been a full-on roaster for six or seven months. I did have a wealth of experience in my back pocket, though, and that really helped carry me to qualifying for U.S. CoffeeChamps.
Mostra, well, literally means "show, exhibition, performance," in Italian. I am part of a team that performs to its best every day, and the best way to test that was to see if I measured up and to exhibit that in competition. The community of people I met at USCC in Boston was incredible; that was easily my favorite part.
Finally, you won! What was that like? And what are your initial thoughts about representing the U.S. in Milan? 
Well, I definitely had enough work waiting for me when we got back, hahaha! For Milan, I'm going to brush up on some of the things I learned competing in the U.S. championships, and do my best to consume as much information as possible about worlds. There's only so much extra prep one can do for something like this though. Most of the practice I did for Boston was roasting and cupping and learning every day, but Milan is much more daunting with the extra layers to the competition—like more coffees and a blending aspect—that it's going to be nose-to-the-grindstone until that final roast is submitted.
Source: Barista Magazine