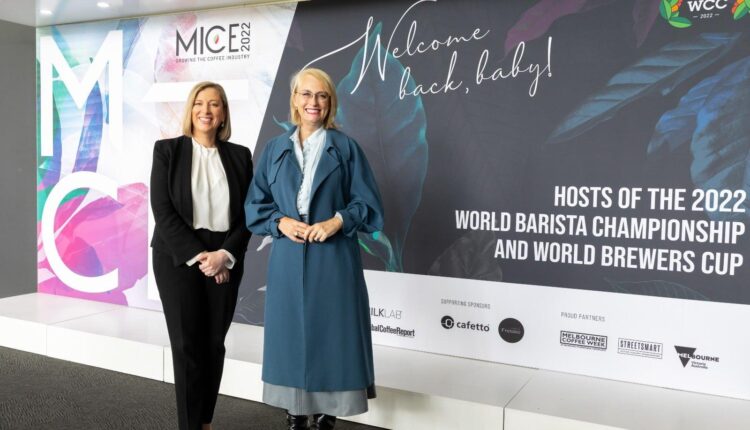 MICE named a "drawcard event" for Melbourne
The 2022 Melbourne International Coffee Expo (MICE) will return in 2023, taking place from 17 to 19 August.
A record 15,056 attendees visited MICE2022, which took place from 27 to 30 September at the Melbourne Convention and Exhibition Centre, signalling the city's return to hosting international events at full capacity.
"It's absolutely vital for Melbourne to be able to host events like this. We are the events capital, but really the business events capital as well," says Melbourne Lord Mayor Sally Capp. "[Melbourne is] obsessed with coffee. Our number one export to the world is coffee culture, and MICE embodies Melbourne's renowned coffee quality and café experience."
Fifteen per cent of MICE2022 attendees were international visitors from 71 countries, indicating a strong return of international participation.
"We're definitely seeing the restart of international events coming back. [MICE] is a really high calibre event, and a perfect example of a drawcard event that can bring people in from around the globe," says Julia Swanson, Chief Executive Officer of the Melbourne Convention Bureau.
The attendance figure is the highest of any MICE expo since the event's inception in 2012, with an increase of 25 per cent of visitor numbers since the 2019 event.
"People are not taking events for granted anymore. They're just happy to reconnect and get that vibrancy back," Julia says.
On attending this year's MICE, Julia spoke to exhibitors who expressed the benefits of doing in-person business, something unattainable via Zoom during the lockdown period.
"Whether it's people making friends, building business, relationships, or people connecting again and building partnerships for the future, there's no replacement," Julia says.
MICE has cemented its position as the largest dedicated coffee expo in the Southern Hemisphere, and this year became only the second city outside of the United States to host both the World Barista Championship and World Brewers Cup for a second time.
Melbourne Lord Mayor Sally Capp describes the achievement as "a thrill that brought people from everywhere just to see the best of the best compete for those titles."
To top it off, Melbourne's own Anthony Douglas from Axil Coffee Roasters won the World Barista Championship title at the home-run event.
Lord Mayor Sally notes that Melbourne's coffee culture was on full display throughout De'Longhi Melbourne Coffee Week, with the international market getting to experience Melbourne's many different café examples that underpin the talent and skills of the city's baristas and brewers.
"In some of the more experimental cafés, there is a real sense of innovation. I love walking into a café and seeing people try something completely different. This intriguing nature of discovery just adds to the experience," Sally says.
"The best part is that visitors can enjoy a Melbourne's coffee experience on the streets, in a beautiful park, in an underground venue, in a fancy café, or a place that's got standing room only. We use coffee as a guide to different experiences around the city, and I think it's a great way to visit Melbourne."
For more information about MICE, visit internationalcoffeeexpo.com
Source: Bean Scene Mag