Kula Project: Cultivating Relationships and Entrepreneurship in Rwanda
The nonprofit Kula's mission is to help eradicate poverty by empowering coffee farmers to create successful businesses
BY J. MARIE CARLAN
BARISTA MAGAZINE ONLINE
Photos courtesy of Kula Project
For a decade, the nonprofit Kula Project has been partnering with coffee communities in Rwanda to help eradicate poverty. Their approach began with a simple objective in mind: build relationships with coffee farmers, and find out how to meet their needs. Kula's mission is not to provide charity to needy communities; rather, it is to empower farmers to build strong businesses to improve their lives.
Seedlings
Founder Sarah Buchanan-Sasson and her partner initially started out working with hydroponics in a few countries. This learning experience shaped their perspective; they realized that to do really helpful work, the best way was to work with farmers directly, build relationships, get feedback, and try new things. After a couple of years, they transitioned into farm-level work with coffee workers in Rwanda. They connected with people in coffee-growing regions and responded to the needs of the farmers. They began to provide coffee seedlings for farmers, as well as fertilizing and training. It began on a small scale in Northern Rwanda and gradually grew year by year. Kula Project saw a need to build another washing station early on in one region; they also began more training with local agronomists and provided more seedlings.
Rwanda's Coffee Industry
Rwanda has a very structured coffee industry. After the social and political upheaval of the 1990s, the Rwandan government decided to prioritize the coffee industry to rebuild its exports. Each coffee community is placed in a specific zone, and farmers are required to use their zone's designated washing station. The average coffee farmer in Rwanda has about 500 trees, so the industry there is primarily composed of small farms. Kula partners with local governments as well as the Ministry of Agriculture to help farmers achieve industry standards.
A Million Trees
Kula, a partner of 1% For the Planet, also focuses on sustainability practices. They are investigating the effects of biochar soil amendment and the efficacy of different fertilizers. One of Kula's major goals is planting trees. This began with coffee seedlings, but they also plant fruit trees and shade trees, depending on the specific needs of the community. By the end of 2022, Kula will have planted 600,000 trees; their target is 1 million trees by 2025.
Women's Empowerment
Kula doesn't stop at coffee, either. They've opened three women's centers in Rwanda. During mentorship programs, women are involved in family decisions, and gender equality is encouraged. The reproductive health care teachings provided by social workers have helped decrease unplanned pregnancies, and now more women feel confident in family planning. Kula also provides artisan training so women have additional options to make income, and partners with Female Founder Collective.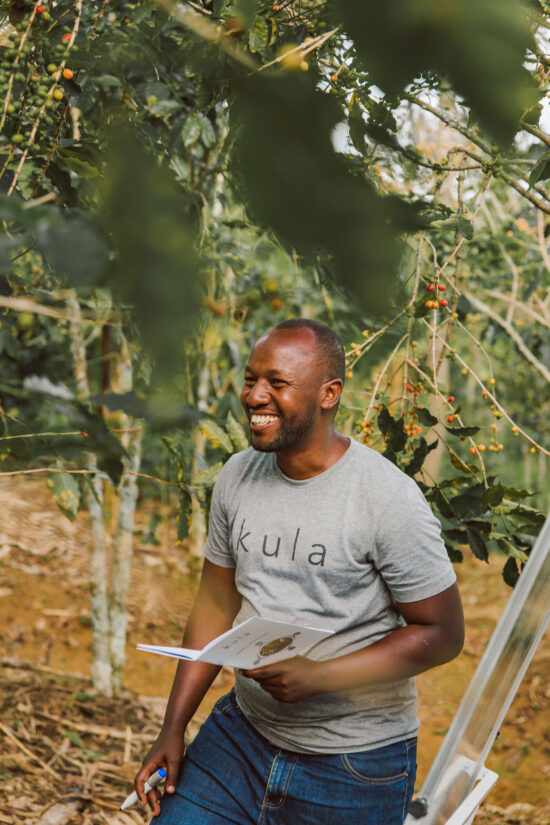 Kula Fellowship Program
Kula Project's biggest breakthrough was creating a business, mentorship, and personal development program. The 15-month business fellowship focuses on helping educate families with financial planning and business strategies. They also teach about nutrition, kitchen gardening, weeding and irrigation, reproductive health, and gender equality. Their mission is to help farmers create visions for their families and assist them with tools and training to meet their objectives. This enables them to improve their output (farmers involved in the program increase their coffee yield, on average, by 38%).
The mentorship program aims to provide holistic services to families to benefit every aspect of their lives. Kula checks in regularly during the process, partnering with Standard Co. to gather impact data on how the program is achieving its goals. Coffee communities personally offer feedback on the mentorship program at intervals during and after the program.
Business Investment and Market Access
In addition to mentorship, Kula offers business investment to farmers who have completed their training and created developed business models. This helps small farms invest in new equipment, seedlings, fertilizer, and anything else that will help their business grow. So far, 850 entrepreneurs have graduated from the Kula fellowship program, 100 businesses have been launched, and 65 businesses have been invested in.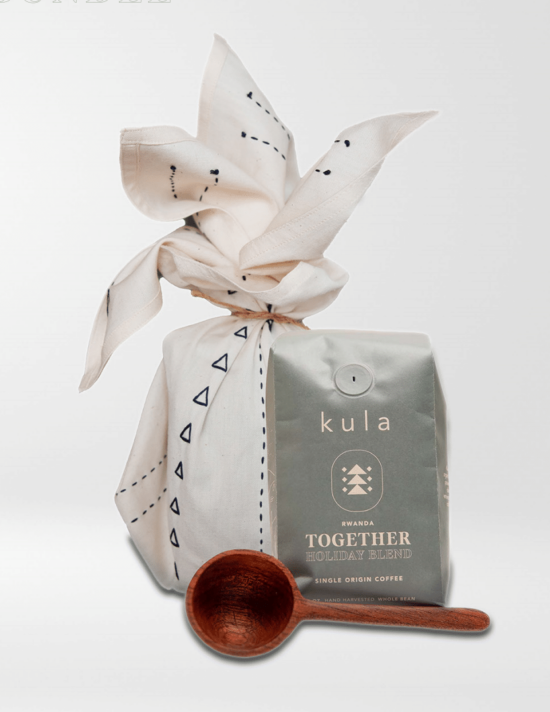 Looking Ahead
In 2019, Kula bought a washing station and began delving into the green business. They realized they could directly help farmers by buying and distributing the coffees they grew. Increasing global market access to farmers was the most effective way to achieve that goal.
As a result of becoming green buyers, Kula Project now sells roasted coffee and other merchandise on its website. They currently have a Together holiday bundle for sale, which includes a handmade wooden coffee scoop by no. 41, a hand-sewn tea towel by Kuasa Collective, and a bag of the Together holiday blend coffee (a washed Jackson 2/1257 and Bourbon Mayaguez 139). All profits from shop sales support the work Kula is doing in Rwanda.
The impact of Kula's work is impressive. However, Executive Director Nic Lauten says the work is far from over: "There's more we can do to impact coffee farmers." And Kula Project intends to keep going.
ABOUT THE AUTHOR
J. Marie Carlan (she/they) is the online editor for Barista Magazine. She's been a barista for over a decade and writing since she was old enough to hold a pencil. When she's not behind the espresso bar or toiling over content, you can find her perusing record stores, collecting bric-a-brac, writing poetry, and trying to keep the plants alive in her Denver apartment. She occasionally updates her blog.
Source: Barista Magazine