Felix Teiretzbacher's Coffee Mission Leads to Roasting Victory
We talk to the winner of the 2022 World Coffee Roasting Championship, who runs the Austrian roastery Felix Kaffee. 
BY CHRIS RYAN
BARISTA MAGAZINE ONLINE
Photos courtesy of the Specialty Coffee Association
Last month at the World Coffee Roasting Championship—held as part of the World Coffee Championships during World of Coffee in Milan, Italy—roasters from 21 countries showed off their skills as they vied for the world title. In the end, only one remained: Felix Teiretzbacher from Austria, who became the first Austrian to win the WCRC. 
What Is the World Coffee Roasting Championship?
The World Coffee Roasting Championship (WCRC), debuted in 2013 as a three-stage event in which "competitors are evaluated on their performance evaluating the quality of green coffee (coffee grading), developing a roasting profile that best accentuates the desirable characteristics of that coffee, and on the ultimate cup quality of coffees roasted," according to the WCRC website. 
This was Felix's second time taking part in the WCRC, after making an initial run at the title during the 2019 event in Taipei, Taiwan, where he placed 20th. We talked to Felix, who is the owner of roastery Felix Kaffee in St. Pölten, Austria, about preparing for the competition, getting post-title attention for Felix Kaffee, and more.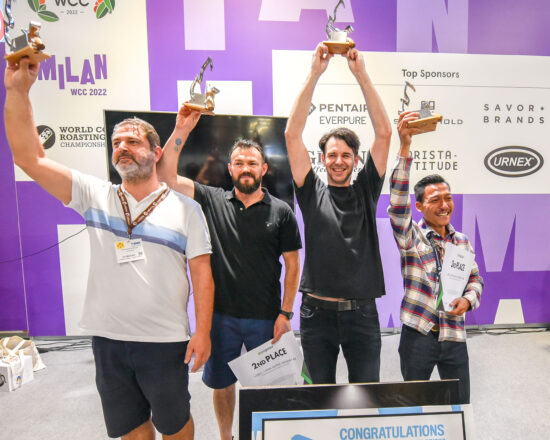 One on One with the World Coffee Roasting Champion Felix Teiretzbacher
BMag: Before we get to the competition, can you tell us a bit about your roastery, Felix Kaffe? When did you start it, what is your mission with it, and who are your customers?
Felix: I started 10 years ago with a 7kg roaster and was roasting Italian-style in the beginning. After tasting modern coffees, I changed my roasting style. I'm based in a smaller city near Vienna, where you feel the countryside a little bit. So it was not so easy to roast lighter roasts. But over the years my company grew, and people started to love the fruity coffees. Most of my clients are based in my city or around it. This has changed in the last weeks, as you can imagine. My mission was and is still to get the real taste of coffee to the people—to tell the stories behind the coffees and share the experience of amazing flavors.
You took part in this competition in 2019. Why did competition remain important to you in the gap during the pandemic, and why did you want to compete again in 2022?
In Taipei, it was the first time for an Austrian roaster to compete at a WCRC. So I knew I was there to learn. I made a few mistakes, and after the competition I really wanted to compete again to show what I really can do. I studied the curves from Taipei a lot in the last years and trained with different coffees. Of course the pandemic brought troubles, but also time to think about things. I worked a lot on my profiles and got lots of experience.
Can you give us some highlights of your experience competing in Milan this year? What felt better from your 2019 experience? Do you have a sense of why you were able to do so well this time?
First of all, meeting all the nice coffee people in person in Milan after years felt really great. The competition was well-organized, and I knew some faces back from Taipei. So it felt really good again being part of it. 
A key moment and highlight was the sample roasting and open cupping with my coach, Bara. I managed to do five really good roasts on the Stronghold (sample roaster) so we could get all the flavors very clear. We are both talking one language in coffee, if you know what I mean. I'm not sure if I can say that something else was better in 2019. I trained differently for this competition and way more intensely than in 2019, so I was better.
Finally, you won! What does it mean to you to be a World Coffee Roasting Champion?
Still working on realizing it. It's so great! There are so many people asking questions and emailing and texting. We now have the challenge to answer all this, and of course get more great coffees for our roastery.
Me and my team are working hard to get everything done as quickly as possible. There are some changes we have to do in the next few weeks that we already planned for a long time. Besides that I want to connect closer with the Austrian coffee scene to show the Austrian people and the world who we are. We have lots of great coffee people here, and I was the first one who brought home a title, but surely not the last one.


Source: Barista Magazine