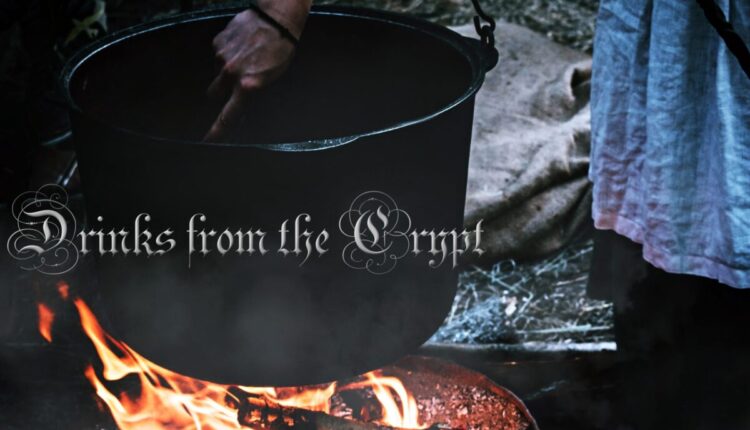 Drinks From the Crypt: Halloween Libations Sure to Thrill
The banshees at Barista Magazine bring you part one of 'Drinks From the Crypt'—spooky drinks for this most ghoulish of seasons. Warning: These brews are not for the faint of heart.
BY J. MARIE CARLAN
BARISTA MAGAZINE ONLINE
Cover photo from Artem Maltsev via Unsplash
The weather has cooled, the leaves have turned, the pumpkins are being carved, and the graveyard ghosts are preparing for a night of revelry. This time of year, the ghouls and goblins come out to play. But first, they'll need a little something to sip! This Halloween season, there is a "Drink From the Crypt" for every witch, werewolf, and wendigo to imbibe.
The AHHHHHH!
This drink arose from the lab at the Dancing Bean Coffee House in the Dancing Bear Lodge located in Townsend, Tenn. Marketing Manager Emma Newman says the AHHHHHH! is worth shouting for. "This creepy concoction can be made hot or cold, and is a mixture of espresso with chocolate and cherry syrups—and it will leave you SCREAMING with energy!" Not pictured: the mad scientists behind the creation.
Nightmare on Front St.
This sinister spicy mocha potion brewed by Jason Michaels contains Mulato chile syrup, dark chocolate ganache, choice of milk, and espresso. Those ready to play with fire, head to Kingston Bread + Bar (+ crypt) in Kingston, N.Y., to try it for yourself.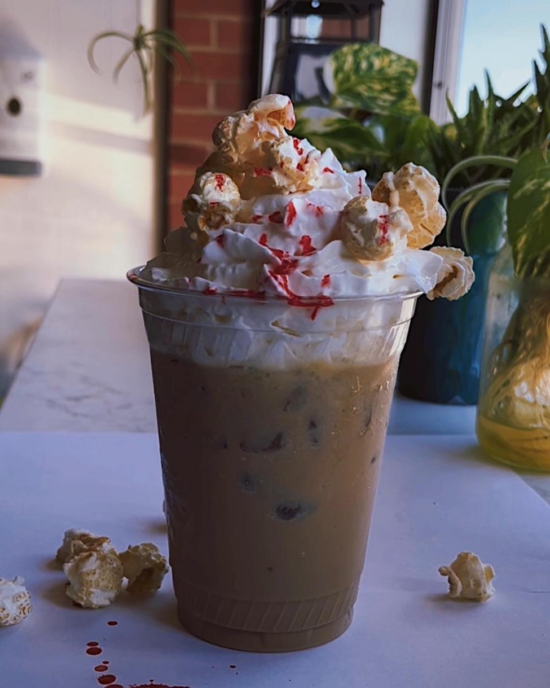 The Woodsboro Slasher
The crossroads. coffee crypt keepers in New Haven, Conn., have a full line of dungeon delights, all inspired by horror films, says owner Montana Telman. One intriguing find: The Woodsboro Slasher (inspired by the slasher classic Scream): a vegan brown butter sea salt caramel latte with whipped cream, kettle corn, and "blood" splatter. All the crossroads.coffee syrups are made in-house (even the blood splatter).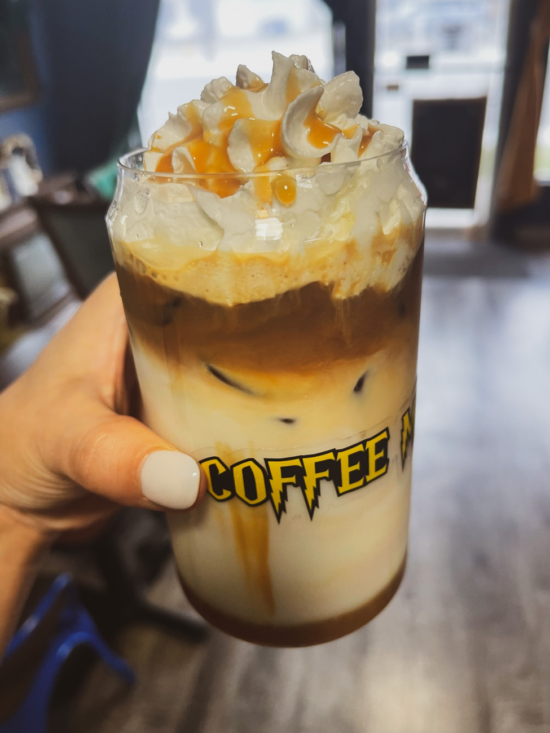 La Bruja Spice
Witches and warlocks, grab your brooms! Muggles, keep walking. The Latina-owned Coffee Mugg in Corpus Christi, Texas, is a place "where all houses are accepted and loved," says owner Susana Almaguer (this Slytherin breathes a sigh of relief). La Bruja Spice is a drink perfect for filling your leaky cauldron: a pumpkin-spiced latte made with horchata!
Beetlejuice
Say this name out loud three times, and Tim Burton may appear at your doorstep with a skeleton crew! This concoction is for anyone seeking the strange and unusual: The Beetlejuice is made with melon syrup, Fever Tree tonic, and espresso at Third Space Café in Minneapolis. Not only is this drink worth dying for, it also promotes women in the workplace. "We are currently 100% owned, managed, and operated by female staff with the intention to positively shift the coffee industry and reputation of industry workers. We all see this as career-based employment," says owner Erin Ryan-Mosley.
Not spooked enough yet? "Drinks From the Crypt" shall be reincarnated next week!
ABOUT THE AUTHOR
J. Marie Carlan (she/they) is the online editor for Barista Magazine. She has been a barista for over a decade and writing since she was old enough to play in the yard by herself. When she's not behind the espresso bar or toiling over content, you can find her perusing record stores, collecting bric-a-brac, writing poetry, and trying to keep the plants alive in her Denver apartment. She occasionally updates her blog.


Source: Barista Magazine