Coffee & Design: Ben O'Brien
We chat with the illustrator and his partner behind Girls Who Grind Coffee.
BY TANYA NANETTI
SPECIAL TO BARISTA MAGAZINE ONLINE
Photos courtesy of Ben O'Brien
Girls Who Grind Coffee (GWGC) is an all-female specialty-coffee roaster based in the U.K that has continued to grow in popularity, especially for its latest work on packaging and merchandise. One person behind supporting the mission and visual work is Ben O'Brien—the husband of co-founder Fi O'Brien—who is also known as Ben the Illustrator. We talked with him about his artistic style, family, badass females in coffee, and much more.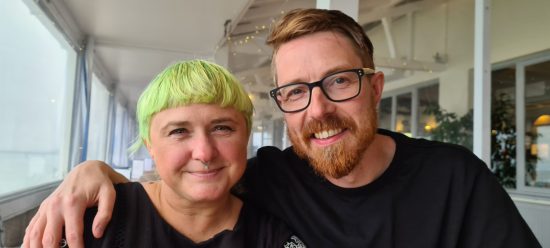 Tanya Nanetti: You have two different Instagram portfolios with two completely different styles. Can you tell us a bit more about your art?
Ben O'Brien: I've been working purely in illustration for 15+ years now; previously I was working in animation. My "main" illustrative portfolio is colorful, graphic artwork, which has developed over my career, and extends from editorial commissions to publishing and advertising and of course to coffee packaging! 
My alternative portfolio came about in the past year, while working with my studio-mate on a project for his Danish seaweed snack brand Wavy Wonders. We were playing with a more hand-drawn doodle style, which I really enjoyed doing, so I developed it from that project into a full portfolio, which has now started to find its commercial potential with new clients and avenues opening up.  I love working in commercial illustration, taking my"art" and working with people to use illustration work for good, telling stories, providing entertainment, or getting a message across.
What are the subjects that you love most to draw? And there are things you really don't want to do?
Interiors and people are probably my favorite things; it brings together a lot of my passions: interior design, products, furniture, fashion, lifestyle. So much of what I love comes down to how people live, whether it's at home or in public spaces, especially cafés! I like the challenge of illustrating pretty much any subject matter, but I do have some rules on the clients I'd work for, whether it's a notoriously toxic workplace, an unethical industry, or anyone with politics I stand against!
Let's talk inspiration: Have you got some artist you really appreciate, someone who really inspires you? Or maybe your inspiration is more in the things around you, or in the people you know?
A lot of my visual inspirations are the same as when I was growing up, '80s artists like Keith Haring and Jean-Michel Basquiat, the energy and color they would put into their work. However, nowadays most of my inspiration comes from outside of art or illustration and, like you said, it's from the world around us: nature, architecture, product design, fashion, and music, a lot of music.
And then GWGC, an amazing"girls-only" coffee project was born, thanks to the badass Fi, who also happens to be married to you. The idea of you designing the packaging was there from the beginning, or it happened with time?
Fi and I had worked together for years before GWGC. … So when GWGC was founded we discussed working together. Fi very much leads; all concepts and style directions came from Fi on how the company would be branded, the name, logo, etc. I assisted on some technical design work to create her vision for the brand (in the same way creative directors and designers always do work together in an agency or design studio). We developed a number of different concepts on packaging, but it was Fi's idea of black packaging, brand in white, and illustrations of women, that really stuck and felt right.  
If Fi is around I've got some questions for her too. Hey Fi, it's pretty much the same question, but from your point of view. When you started the amazing project that is Girls Who Grind Coffee, did you always imagine Ben as the guy behind the illustrations? Why?
Fi: Hi! Yes! Most definitely. It's really important that you have great communication between creative director and designer/illustrator, so it made complete sense to me that I would work alongside Ben for the design work. Also, I love how Ben uses color and his incredible use of graphic shapes to create form, which I thought would be the perfect way to illustrate the women for the front of the packs—so it was a no-brainer. We work quite symbiotically when it comes to the design process; he always understands what I am trying to achieve and we have a great creative brief process that works super well for the packaging and merchandise.
Can you tell me a little bit more about the creative process behind GWGC's packaging? Every packaging from a new coffee release has a different female portrait in it. How do you choose the subject for every illustration? It's all connected with the story of the girls behind every single origin? Do you have a pic to start from?
Fi: The women you see on each pack are created based on a number of different factors, from the tasting notes (courtesy of Fi's business partner and GWGC head of roasting Casey), the stories behind the coffee producers, the character of the coffee itself, and any message, fashion style, or female personality we want to bring to each product. We have a wild Pinterest board full of fashion accessories, haircuts, style icons, make-up looks, color palettes, and a lot of strong female attitudes! For every design it comes together quite naturally what the character should be for that pack.
Thanks to much Fi, for being a special guest in our interview! Now, going back to Ben: Do you do other collaborations in the coffee world? Or outside of it? 
Not in the most part; most of my commercial work is in the education and health care industries. I have worked on other packaging and drinks products, but I think my coffee focus will always be on Girls Who Grind Coffee! Saying that, I will illustrate any café on Earth. I love it, I always travel with my sketchbook and draw everywhere I go; the cafés and people in them are one of my favorite things to draw, as of yet though it's not led to any collaborations or commissions to illustrate cafés!
Your life outside art and illustration—what do you love to do? Any hobbies and passions that will surprise us?
I think I mentioned going to cafés enough, but aside from that we mostly enjoy our family time. We have a very busy 11-year-old son and an even busier 8-month-old puppy, so most of our time is spent together, walking, eating, and traveling around. 
ABOUT THE AUTHOR
Tanya Nanetti (she/her) is a specialty-coffee barista, a traveler, and a dreamer. When she's not behind the coffee machine (or visiting some hidden corner of the world), she's busy writing for Coffee Insurrection, a website about specialty coffee that she's creating along with her boyfriend. 


Source: Barista Magazine