Carmen Clemente Turns Latte Art Passion into World Title
We talk to the veteran competitor from Italy, who took home the top prize at the 2022 World Latte Art Championship earlier this summer.  
BY CHRIS RYAN
BARISTA MAGAZINE ONLINE
Cover photo by Luca Rinaldi for the Specialty Coffee Association
Carmen Clemente is no stranger to latte art. She has been studying the craft since the mid-2010s, and runs a latte art school in Milan called the Barlady Cafè Academy with her partner, Manuela Fensore. If Manuela's name sounds familiar, that may be because she won the World Latte Art Championship (WLAC) in 2019, with Carmen by her side. 
Earlier this year in Milan, it was time for Carmen to step into the spotlight. Having competed since 2017, Carmen earned Italy's national latte art title, then on the big stage at the WLAC held at the World of Coffee in Milan in June, she took home the top prize to become the 2022 World Latte Art Championship. 
We talked to Carmen about partnering with Manuela for success, choosing latte art designs, and much more.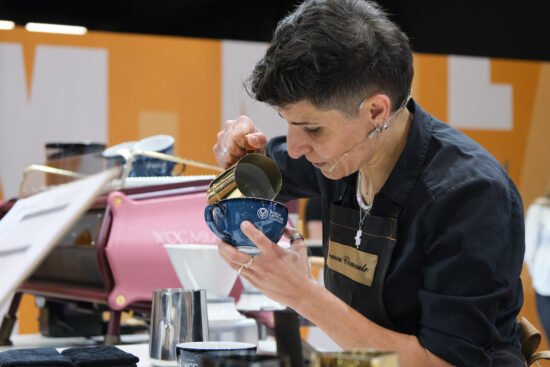 How did you discover latte art, and what has excited you about it? Why have you wanted to take part in this competition? 
I worked as a bartender before starting my career in the coffee world in 2011, when I decided to open my first coffee shop in Milan. I took a brief coffee course and immediately became passionate about the discipline of coffee and latte art. After meeting Manuela in 2013, we decided together to do our first latte art course in 2015 with Luigi Lupi. In 2017 I did my first competition, always together with Manuela.
The world of competitions has always fascinated me; I really like to compare myself with other competitors because you always learn something from each of them.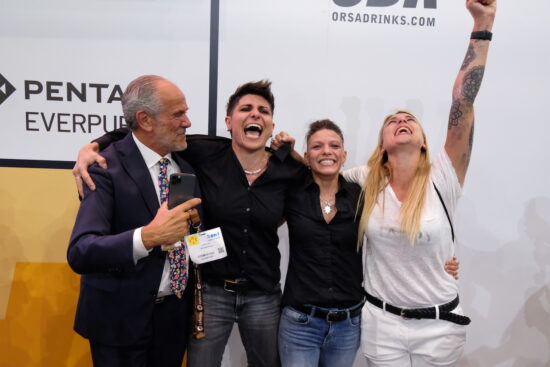 I was very interested to see your 2022 WLAC designs on your Instagram page. How did you come up with these, and do you have a favorite of the four? 
Manuela was fundamental in the creation of the drawings. I told her I wanted to bring myself and my way of being to the competition, and together we looked for figures to represent myself. Manuela did a 360-degree coaching job for me, both with helping me create the drawings and approach the whole competition. My favorite design is the marlin because it represents my way of being crazy and the joy of living.
What were some of your keys to succeeding in this competition? Amazingly, you won by just half a point over second-place finisher Rora.
To do well in this world championship, I took advantage of Manuela's experience a lot. Every day while waiting for the competition, I spoke with her above all about what I could try to find success. She had the patience to always support me. 
The first six competitors in the final were very close with the score. I think it was very difficult for the judges to decide because the skill levels were very similar, but at the end of each competition there is just one winner. 
Finally, you won! What does it mean to you to be a World Latte Art Champion? 
Being a latte art champion is not a point of arrival but a starting point. I will continue to do what I did when I was "nobody," and that is to share all my knowledge with Manuela and with all the students who want to learn from us. 


Source: Barista Magazine