BREW by Mikolaj Pociecha: A Review
ddd
BY TANYA NANETTI
SENIOR ONLINE CORRESPONDENT
Cover photo courtesy of SUEDHANG Kaffe
Mikolaj Pociecha, head of quality and roaster at SUEDHANG Kaffe, recently released a tiny book called BREW, published by the roaster.
Described as an "introduction to brewing coffee by hand" and "written out of necessity to clearly explain the basics of brewing coffee," the book proves to be more than a basic brewing guide.
Through three sections that cover the what, why, and how of brewing, BREW is explicitly dedicated to people who already have some experience in brewing by hand, with at least a basic knowledge of coffee-brewing techniques and equipment.
What?
"What?" is dedicated to the evaluation of the raw material: coffee. In this section, tips on sensory evaluation and cupping structure will help you understand more about a specific coffee in order to maximize its potential.
Why?
"Why?" is an in-depth explanation of all the variables that can influence a brew (such as water properties, bean temperature, and grind size), how they work, how they can be manipulated, and what results these changes will produce in the final cup.
How?
After covering the sensory, chemical, and physical properties of the brew, the last section of the book, "How?" finally explains everything you need to know about the most common brew methods. After a "common ground" that covers coffee ratios, filter types, extraction stages, and pouring techniques, the last part of BREW offers a basic and effective recipe for all major coffee brewers.
Dedicated primarily to experienced baristas, the book will introduce you to some totally mind-blowing aspects of coffee brewing.
For instance, many of us know that blooming a coffee will help it release carbon dioxide, but do you know how a different amount of water for the bloom can influence the final characteristics of the coffee, like acidity and sweetness?
Or, can you guess which two key aspects of coffee are affected by different bean temperatures? Grinding is one, but what about the second aspect?
To close the book, Mikolaj includes an interesting short chapter that reveals one of his deepest passions: canephora coffee, also known as robusta.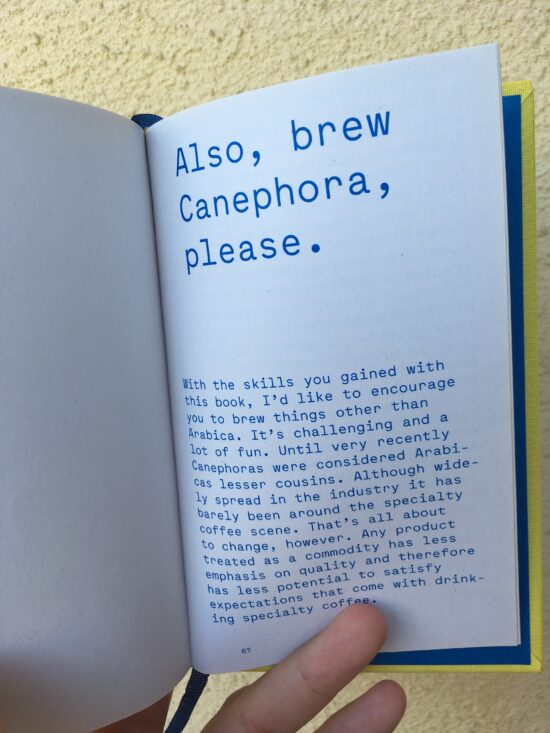 Canephora, Please
"Also, brew Canephora, please" (which will serve as a premise for the author's new book) stands as an encouragement to go beyond arabica and start brewing something different.
Canephora, often seen as the lesser cousin of Arabica, may actually be a species worth exploring. New movements are emerging all over the world, with coffee producers radically improving the quality of robusta coffee, and it's our responsibility (as buyers, roasters, coffee shops, and consumers) to support any coffee producer who wants to do good, including robusta producers.
And here, Mikolaj helps us with some brief tips on what to expect when brewing robusta, and how to brew it better. (You can pre-order Mikolaj's next book "I would like your fruitiest, funkiest, most fermented Canephora on the menu," here.)
All in all, BREW is a perfectly pleasant read: short, professional, but not too heavy to digest, and full of tips to gain more insight into the complex world of coffee brewing.
This reviewer suggests investing a couple of hours to read the book, then grabbing your favorite coffee brewer and having fun with your newfound knowledge!
ABOUT THE AUTHOR
Tanya Nanetti (she/her) is a specialty-coffee barista, a traveler, and a dreamer. When she's not behind the coffee machine (or visiting some hidden corner of the world), she's busy writing for Coffee Insurrection, a website about specialty coffee that she's creating along with her boyfriend.


Source: Barista Magazine