Breaking New Ground: A Sicilian Coffee Plantation, Part One
The impacts of climate change are starting to be felt in Sicily, but while they're causing problems, the rising temperatures are also bringing new opportunities.
BY JOSEPH PHELAN
SPECIAL TO BARISTA MAGAZINE ONLINE
Featured image courtesy of Henrique Ferreira on Unsplash
The Sicilian love affair with coffee is known the world over. Sicily, the largest of the Mediterranean islands, has a population obsessed with the stuff—and it has been that way for hundreds of years. Did you know, for example, that a Sicilian by the name of Francesco Procopio dei Coltelli founded the oldest café in Paris, Le Procope, in 1686? Or that Sicilians invented the coffee granita, the indulgently sweet dessert, in the early 1900s? Take an early morning stroll through the ancient streets of Palermo and you will be ensconced in the intoxicating aroma of strong Sicilian coffee. It's as much a staple of the city as arancini balls and pistachio cannoli, and the locals wouldn't have it any other way.
An Italian Legacy
There are numerous roasteries—known locally as torrefazione— on the island, with most Sicilians preferring to purchase coffee from a neighborhood expert rather than from a large supermarket. Sicilians are traditionally regarded as roasting connoisseurs. Sicily also has an abundance of specialty-coffee shops, but until very recently there was one thing the island could not boast: its own coffee plantation. In 2021, however, that all changed; the Morettino experimental coffee plantation, widely considered to be the most northerly plantation in the world and the only one in Europe, harvested the caffeine-loving island's first coffee batch.  
Morettino is a well-established name in Sicilian coffee. In 2020 the Morettino roastery celebrated its 100th anniversary, though the planned festivities had to be canceled due to the COVID-19 pandemic and its associated lockdowns. However, Andrea Morettino, head of sales and marketing at Caffè Morettino, suggests that this milestone birthday was not without its gifts.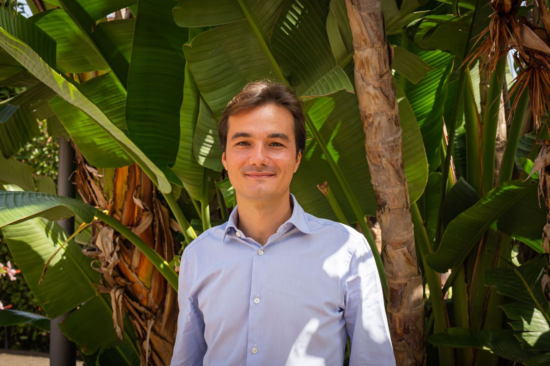 A 30-Year Triumph
"We love to think that maybe Mother Nature gave us an extraordinary present for our 100th anniversary, with a surprisingly rich harvest from our Sicilian coffee plantation, to say thank you for our dedication and love for coffee!" he quips. "We were very surprised by the harvest. It was a huge achievement, and we now want to share it with all coffee lovers. We will now carry on the experimental plantation project." 
Morettino's is a success story 30 years in the making. Since the early 1990s, the Morettino family has been committed to its pioneering coffee-growing project. They are determined to showcase the quality and versatility of Sicilian soil. The family has long held the theory that, given time to acclimatize, coffee plants have the capacity to thrive in Sicily. Their resilience and patience, coupled with the fact that climate change is gradually making the Sicilian environment more tropical, have now started to reap rewards. Growing coffee in Sicily is no longer just a dream; it is a viable, tangible reality. 
Seeds of a Movement
"The first experimental plantation was located in the historical family roastery gardens in the small village of San Lorenzo ai Colli in Palermo, 350 meters above sea level," says Andrea. "The original seeds came from the Botanical Garden of Palermo, one of the most significant tropical gardens in Europe. In the beautiful historical greenhouse Serra Carolina, you can still see the oldest arabica coffee plants that were introduced in Europe at the end of the 1800s."
In the three decades since the Morettino family started out on its ambitious endeavor, there have been far more failures than successes. The family has been attempting to do something never done before. Their ability to routinely overcome disappointment highlights the enviable doggedness of the Morettinos. 
Overcoming Obstacles
"Over the years plants died or were not able to give drupes," Andrea says. "We probably made some mistakes, and we certainly got some disappointments." Yet, despite this, the family never considered giving up. Andrea is confident that because Sicilian society highly values coffee, these plants will eventually flourish across the island.  
"For Sicilian people, coffee is a ritual, a symbol of sharing and conviviality, an authentic expression of the colors and flowers of our land. Coffee is a milestone that marks the passing of the hours during the day and accompanies our awakenings, pleasure breaks, moments of relaxation, or lightheartedness. For all our guests, coffee is used as a fragrant welcome, a friendly greeting, and a heartfelt goodbye," Andrea says.  
Stay tuned for part two of this article tomorrow at Barista Magazine Online.
ABOUT THE AUTHOR
Joseph Phelan (he/him) is a freelance journalist based in London. While most of his free time is spent scouring his adopted city in search of the best coffee haunts, he also enjoys any opportunity to listen to live music and makes a point of venturing to Iceland at least twice a year.
Source: Barista Magazine