Book Review: Canephora by Mikolaj Pociecha
Mikolaj Pociecha looks to make robusta cool with his latest book.
BY TANYA NANETTI
SENIOR ONLINE CORRESPONDENT
Photos courtesy of Suedhang
Mikolaj Pociecha, head of quality and roaster at Suedhang Kaffe in Germany, doesn't like to waste time. 
Not even a year has gone by since the publication of Brew, a tiny book self-described as an introduction to brewing coffee by hand. Now Mikolaj is back with a new book called I would like your fruitiest, funkiest, most fermented Canephora on the menu—or, simply, Canephora).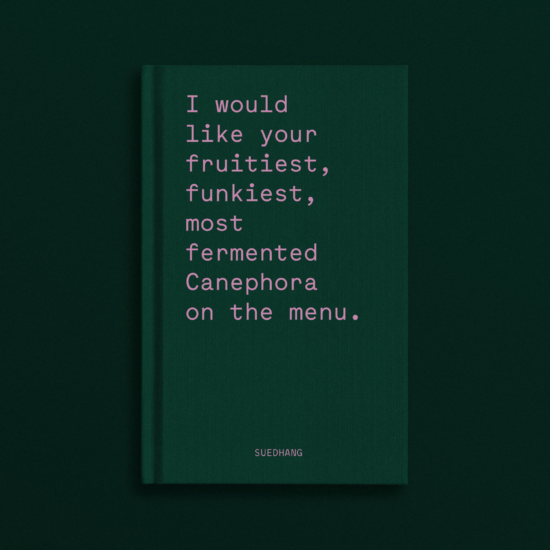 Also published by the coffee roaster itself, Suedhang, Canephora was written with a simple purpose: to change the general opinion that the coffee community has about robusta coffee. 
Contents
Divided into nine different chapters, the content of Canephora is mostly technical. First comes a general explanation of the Coffea canephora species—also known as robusta—and its most famous varieties through a series of "postcards" with brief but detailed descriptions of some of the best robusta coffees Mikolaj has tried. Then the book covers all the different aspects that could help change the generally negative response to robusta. 
Canephora Brew Tips and Personal Anecdotes
The book extensively covers tasting, processing, roasting, and brewing robusta from a scientific point of view. There is an overview of "typical filter roast profile parameters" to be followed during the roasting process, as well as a discussion on the perfect water to use for cupping. Mikolaj goes through the extraction stages of a classic pourover robusta. There's even an in-depth explanation of how to brew with a Phin filter, the classic Vietnamese coffee brewer. 
But Canephora is not just about geeky technical stuff.  
Through chapters such as "Sen no Rikyu" (about the Zen Buddhist monk who reformed the tea ceremony in a way that, according to Mikolaj, could also benefit robusta tasting), "Stories from Zürich" (where Mikolaj's encounter with coffee pros Emi Fukahori and Mathieu Theis is told in detail), and "Conversations with Friends" (a series of interviews with some of the author's most inspiring friends), Mikolaj is able to lighten up the story, making everything more fluid and enjoyable. 
All in all, Canephora is an interesting read that brings attention to a side of the specialty-coffee market not often covered—at least in such a detailed way. You can order it from Suedhang here.
ABOUT THE AUTHOR
Tanya Nanetti (she/her) is a specialty-coffee barista, a traveler, and a dreamer. When she's not behind the coffee machine (or visiting some hidden corner of the world), she's busy writing for Coffee Insurrection, a website about specialty coffee that she's creating along with her boyfriend.
Source: Barista Magazine