Bay Area Coffee Adventures that Go Beyond Coffee Shops
We explore four spots in the San Francisco Bay Area to highlight the area's bevy of coffee options.
BY EDDIE P. GOMEZ
SPECIAL TO BARISTA MAGAZINE ONLINE
Photos courtesy of Eddie P. Gomez
From cuppings to classes on the history of coffee, in-person coffee activities that were once ubiquitous may now be relics of the past, or especially slow to return. Nestling into a neighborhood café is a favorite activity, but sometimes others want to go beyond the brew and behind the scenes of coffee. What follows are four adventurous coffee destinations to visit in the Bay Area.
CoRo Coffee
Bay Area CoRoasters began in Berkeley in 2016 as a roaster, but has since grown into a community destination for collaboration and development. For CoRo that mostly means expanding access to coffee roasting equipment, or offering the business training necessary to open a café.
CoRo hosts a café that features coffees produced by its partnering co-roasters and members. However, CoRo is also a space for anyone looking to acquire essential coffee business skills. Additionally, the facility is a haven for developing professional connections and building a network of coffee friends, which is especially valuable for those getting started in the business. Fortunately, there are many ways to join this unique coffee community.
CoRo has something for everyone. Currently, the facility offers three level-based courses on roasting, one-on-one practicums with a roasting expert, and of course, access to a plethora of coffee roasters. Make sure to check out CoRo's website for upcoming events that include more than classes on roasting and business development.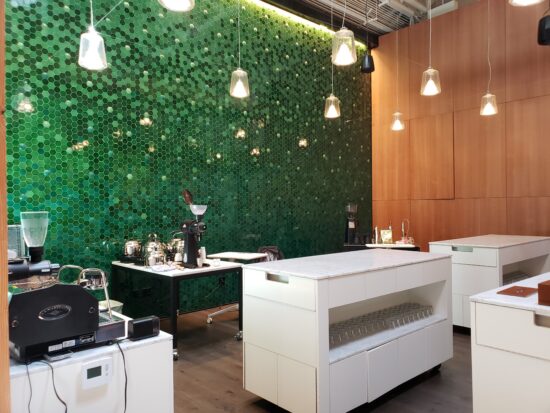 The Crown – Royal Coffee
Green importer Royal Coffee's Downtown Oakland location, affectionately named The Crown, occupies a beautifully remodeled 1920s building that was once a car dealership—a phenomenal example of using multiple spaces to maximize functionality. 
The Crown boasts a café, lab, roastery, and tasting room. From cupping coffees to learning the basics of sensory skills, Royal Coffee has plenty of ways to entertain its guests. According to lab manager Chris Kornman, "Royal Coffee is a big coffee importer, but this is the place where we get to interface with the community in a way that helps everyone."
Another thing that sets Royal Coffee apart is its friendly staff, who are well-trained to give guests the sense that they are in the right place to engage with whatever aspect of specialty coffee fascinates them. Royal Coffee's website also has an extensive catalog of educational digital resources, worth checking out before a visit. The company also has an array of classes that range from buying green coffee to understanding fermentation and processing coffee.
Fellow SF Playground
Fellow's fashionable flagship store is located in San Francisco's ultra-popular Mission District, offering a sleek and aesthetically pleasing array of brewing gear in person. Their hugely popular online retail store has been at the forefront of supplying the pandemic-induced explosion in home brewing. 
A bonus at Fellow is their interactive space called The Playground. Here, customers can relax and "brew a cup, share a tip, take a class, or just talk shop." The staff is on hand to walk customers through a brewing lesson or answer any questions they may have about crafting their own cups of great-tasting coffee.
Stop by Fellow to check out their wide selection of coffee products, or check out their calendar for upcoming events. June featured a Queer Cupping event co-hosted by several local roasters to celebrate Pride Month in San Francisco. As the summer rolls on, various other events will be announced.
Jiaren Cafe – Coffee, Tea, Community
Jiaren Café in Santa Clara is a nonprofit neighborhood spot that can be described as a women's leadership and wellness space that helps people enrich their lives. Alongside this they serve coffee, tea, and herbal and matcha drinks. The shop features Ritual Coffee Roasters, a selection of pastries, and brewing gear. 
Jiaren Café also hosts a variety of community events, including group and private classes and partnership fundraisers in order to give back to the community. The fact that the shop co-exists alongside a yoga studio speaks volumes to the diversity of services offered there. Jiaren Café also has a coffee for heroes program that provides coffee and pastries to first responders and others in the community. In-person classes, such as painting and latte art design, are also available to groups or individuals.
ABOUT THE AUTHOR
Eddie P. Gomez (he/him) is a freelance writer based in Modesto, Calif. When he is not substitute teaching kindergarten classes, he wanders from city to city, perfecting the art of the food and coffee adventure.
Source: Barista Magazine