Agnieszka Rojewska Wins Another World Championship 
The 2018 World Barista Champion again earned global honors, this time winning the 2022 World Coffee In Good Spirits Championship. 
BY CHRIS RYAN
BARISTA MAGAZINE ONLINE
Cover photo by Luca Rinaldi for the Specialty Coffee Association
In 2018, Agnieszka Rojewska made coffee competition history when she won the World Barista Championship (WBC), becoming the first woman to earn the prestigious title. Hailing from Poland, Agnieszka—whose friends call her Aga—had been taking part in World Coffee Championships events since 2011, from Barista to Brewers Cup to Latte Art. 
And Aga didn't stop competing after her WBC title. At the 2022 World Coffee Championships, which took place in Milan, Italy, last month in conjunction with the World of Coffee event, she took part in both the World Coffee In Good Spirits Championship (WCIGS) and the World Cezve/Ibrik Championship. She not only made the finals in both events, but took home the top spot at WCIGS, earning her second world title! (You can watch Aga's final-round CIGS performance here.) 
We talked to the impressive Aga about juggling multiple competitions on the world stage, her competition future, and more. 
This year, you competed at both WCIGS and the World Cezve/Ibrik Championship. What was your experience balancing the two competitions? Did it make it more difficult? 
If ever somebody tells you they're going to do that, tell them it is the worst idea—especially if you want to perform good or great on both sides. 
Competing in two competitions at this level is exhausting, stressful, and chaotic. You need to achieve different levels of control and organization, and the different preparations for each competition push your body to the very limit. Time management in competition and in preparation is like Jenga or Tetris … one block can ruin everything.  
I knew from the beginning that my goal was to make it to the finals of both competitions—which only meant more work. I think I would be the most disappointed and angry with myself if I weren't able to deliver a certain level of performance—if I knew I'd had the capacity to do better but just decided not to. Competition is like sports; at some level you can just run a 10K and survive, but if you do it for years, you want to get a better pace and better time.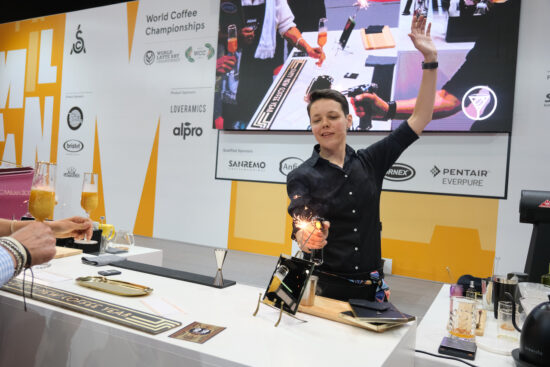 You got third at WCIGS in 2019 … why did you want to compete in that event again?
I just wanted to place better than I did in 2019. 🙂 I knew I made some mistakes in 2019 in the final round, so I wasn't satisfied with my level of performance. This year I wanted to prove to myself that I could deliver a better presentation, and I came up with nicer concepts that I liked more. 
You mentioned in the on-stage interview after your performance that you added the Coffee Champagne for the finals round this year, but you created it in 2019. How difficult was it to adjust your routine in the finals to add a new drink?
It actually wasn't that hard. I knew from the very beginning that I would incorporate the Coffee Champagne if I made it to the finals, so I just created a plan and preparations that included that.
You have now won WCIGS and WBC! And I know you've made the World Latte Art Championship finals several times. Do you have an idea if you'll keep competing next year?
I have already won the CIGS championship in Poland for next year, so I could defend my WCIGS title, but I will not. It would just be so much more stressful. 
I would like to go back to latte art at some point, but … I'm getting too old for that one. So we will see … 
Finally, outside of competition, what are you doing professionally in Poland these days?
I work for the Breville/Sage BEANZ project in Europe. Also, my next plan is to open a roastery in a small coffee resort in the south of Poland. I like to keep myself busy!
Source: Barista Magazine