A Recap of The Barista League's Mystery Coffee Vacation in Colombia
The Barista League's Mystery Coffee Vacation in Colombia is over, and we've got the scoop on all the fun!
BY VASILEIA FANARIOTI
SENIOR ONLINE CORRESPONDENT
Photos courtesy of Vasileia Fanarioti and Juan Henao
During the last week of February, the 2022 Barista League champions gathered in Colombia for this year's Mystery Coffee Vacation. It was an action-packed trip filled with learning, competitions, and of course, lots of fun!
The Barista League team organized the trip with the help of Café Tío Conejo,  a specialty-coffee producer in Manizales. Support also came from BWT, Crypto Baristas, and Need a Barista. I joined the group on behalf of Barista Magazine to document their journey. It was an unforgettable experience!
Connecting Coffee Cultures in Colombia
The trip kicked off in Manizales. Here, the champions were welcomed by coffee producers at Recinto del Pensamiento, a nature reserve located in the region. After lunch, there was a fun competition where local baristas joined forces with the international champions and shared their love for coffee. The evening ended with lots of dancing!
The following day started by tasting some of Colombia's awarded coffees during a cupping session at Recinto del Pensamiento. Then it was time to watch some national coffee competitions, while the champions had the chance to brew coffee they brought from their respective countries.
On the third day, we headed to the Café Tío Conejo farm in Manizales. As well as learning about harvesting and processing, we got to taste coffee cherries and watch the coffee hulling process. The Café Tío Conejo team had prepared another coffee cupping for us, where we got to try some of their delicious processed coffees.
On the last day of this journey, the group headed to Bogotá to compete in the La Rumba Barista. It was the first Barista League competition ever held in Colombia, and it was truly special! Some of the champions paired up with local baristas to compete for an evening packed with sensory challenges, espresso brewing competitions, and coffee cocktail crafting.
In the end, Lorena Villanueva and Carolina Pinilla, who paired up with Ivette Veraloor from Spain's Nomad Coffee, won first place, earning them a spot at next year's Mystery Coffee Vacation!
A Trip to Remember
The trip also featured some of the most incredible activities and lots of gifts. From a coffee tasting at Bogota's airport to DJ appearances in Recinto del Pensamiento and La Rumba, everyone had a great time. We spent an evening at Hotel Termales El Otoño, where champions could relax in thermal pools. There was also a silent disco experience in the Café Tío Conejo farm where we watched the sunset together, sharing music and dancing.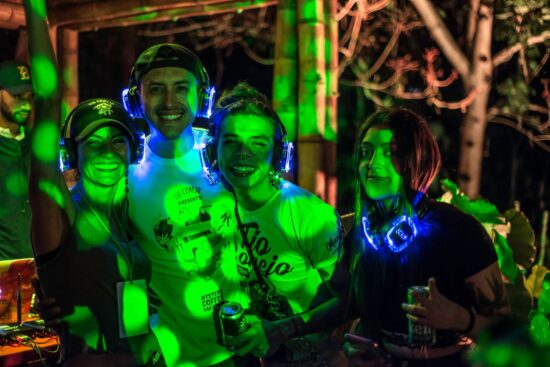 To top it off, our last night out was filled with Latin and Caribbean music and lots of dancing in one of Bogotá's best clubs—a great way to end this unforgettable adventure!
My favorite part of the trip? I got to connect with so many people from different backgrounds with one common passion: coffee! This trip showed us how coffee can bring people from different countries together and can be used as a bridge for cultural exchange.
A big thank you goes to The Barista League and the Café Tío Conejo team for putting together this amazing adventure, making sure everyone felt safe, and creating an incredible experience. I'm already looking forward to the 2023 Barista League competitions, and I can't wait to see what the next Mystery Coffee Vacation will be like!
ABOUT THE AUTHOR
Vasileia Fanarioti (she/her) is a senior online correspondent for Barista Magazine, and a freelance copywriter and editor with a primary focus on the coffee niche. She has also been a volunteer copywriter for the I'M NOT A BARISTA NPO, providing content to help educate people about baristas and their work. You can follow her adventures at thewanderingbean.net.


Source: Barista Magazine