A Look Inside I'M NOT A BARISTA's Book,101 Coffee Stories
The book takes you on a journey through the lives of coffee people around the world. 
BY VASILEIA FANARIOTI
SPECIAL ONLINE CORRESPONDENT
Photos courtesy of I'M NOT A BARISTA 
The I'M NOT A BARISTA team is back with yet another exciting project: publishing a book, 101 Coffee Stories. This book comprises one hundred and one stories from every corner of the coffee industry and was launched on Kickstarter on October 11th.  All of the profits from this book will go to the I'M NOT A BARISTA interns, volunteers, designers, and coffee people in need. Today at Barista Magazine Online, we're taking a look inside this fascinating book and what it means for the coffee industry. 
Empowering Coffee People
Since its founding in 2019, I'M NOT A BARISTA's goal has been to empower the people behind the cup. In 2020, they started collecting coffee stories from all over the world and sharing them on their website and social media. The new book, 101 Coffee Stories, is meant to reach a bigger audience and bring greater awareness to both the good and bad sides of the coffee industry. 
Over the years the team has collected, featured, and published more than 170 coffee stories from multiple countries across the globe. With this book, they hope to underscore the injustices in the coffee industry. They want to show consumers that coffee is not coffee without the millions of people behind every cup. 
A Look Inside 101 Coffee Stories
The book is comprised of one hundred and one stories from different parts of the coffee industry. It features coffee farmers in South America and Africa, roasters in Europe, baristas in the United States, global coffee consumers, and home brewers. These stories are grouped together based on common themes, with each having a minimum of two pages.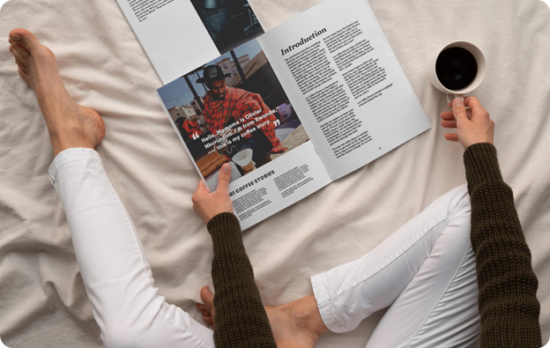 Images and illustrations are included throughout 101 Coffee Stories to create a visually stunning experience. Each story comes with a QR code that can be scanned to listen to an audio version of the story. What's more, the book is sectioned based on the hashtag algorithm, where content is organized by similar keywords. 
The I'M NOT A BARISTA team is widely known for posting coffee stories on their Instagram account. Using the hashtag algorithm to section the content is an innovative idea that brings social media and traditional print together. 
Kickstarter project backers can also choose an add-on option that includes a special edition of the Coffee Wristbands™ by the coffee community, an I'M NOT A BARISTA Enamel Pin or bookmarks designed by coffee artists. The team hopes to eventually have this book on the shelves of local coffee shops so coffee lovers can learn more about the industry and the people behind it. If you wish to back this meaningful project, head to the Kickstarter page here. 
ABOUT THE AUTHOR
Vasileia Fanarioti (she/her) is a senior online correspondent for Barista Magazine, and a freelance copywriter and editor with a primary focus on the coffee niche. She has also been a volunteer copywriter for the I'M NOT A BARISTA NPO, providing content to help educate people about baristas and their work. You can follow her adventures at thewanderingbean.net.


Source: Barista Magazine