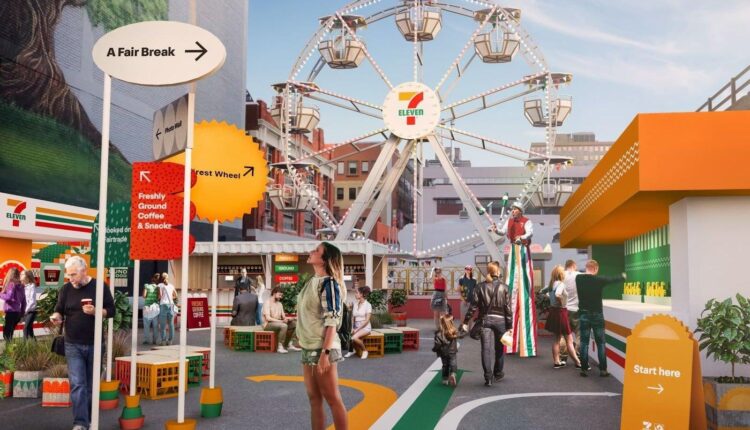 7-Eleven holds pop-up carnival to celebrate Fairtrade certified coffee
7-Eleven is celebrating the launch of its Fairtrade certified coffee by bringing a pop-up fair to Melbourne with free rides, prizes, and coffee.
The pop-up carnival 'Fair Ground' will run over two days from 14 to 15 October from 10:30am to 11:30am at 217-231 Lonsdale Street, Melbourne.
Aiming to teach Australians the impact of Fairtrade, the experience will feature a 15-metre-high Ferris wheel, carnival games, stilt walkers, entertainment, 7-Eleven's iconic complimentary freshly ground coffee and snacks to enjoy.
"It's important now more than ever to know where your coffee comes from, and to know it's traded on fair terms with fair working conditions. The 80 million cups of coffee that 7-Eleven serve each year will now be 100 per cent Fairtrade certified. This means a more sustainable future for coffee farmers, their communities, and our customers," says 7-Eleven General Manager of Customer & Insights Julie Laycock.
"The quality and convenience of our iconic 7-Eleven freshly ground coffee remains as important today as ever, but our customers are seeking more responsibly sourced and sustainable coffee, expecting us to lead the way."
This Fairtrade announcement is part of the company's broader commitment to the environment. 7-Eleven will also roll out new coffee packaging made with plants and will offer a $0.50 discount when customers bring in their reusable coffee cup.
"7-Eleven becomes our biggest Fairtrade certified partner in Australia. Millions of Australians can enjoy their coffee from 7-Eleven stores across the country knowing that the beans in every cup are bought on Fairtrade terms, helping many thousands of farmers, workers and their community's benefit," says Fairtrade CEO Mike Briers.
"When choosing Fairtrade coffee, you're supporting farmers earn a fair income with fair working conditions for a better quality of life. Every coffee purchase also supports farmers to invest in initiatives that benefit their communities, such as growing better quality beans, confronting environmental challenges, and building community infrastructure."
For more information, visit fairtradeanz.org
Source: Bean Scene Mag