5 Standout Signature Drinks in Asheville, N.C.
The laid-back town of Asheville in the mountains of Western North Carolina has a distinctive character reflected in its specialty coffee scene.
BY ZECHARIAH MOSS
SPECIAL TO BARISTA MAGAZINE ONLINE
Photos by Emily Moss unless noted
Living in a mountain town steeped with culture and creativity, the folks in Asheville, N.C., put as much thought into their coffee as they do their art. Any selection from the cafés listed below would belong on your weekend getaway itinerary, whether you're aiming to hit the trails or viewing the local street art or galleries. We've picked out a signature drink from each shop that we believe is among the best, but menus are always changing, and you might find something else that sounds even better. Follow each shop on Instagram to find out more about their seasonal offerings.
Buzz Chill at High Five Coffee
High Five Coffee is an animal-friendly shop with natural punk-rock vibes flowing from their menu. With three different locations, this family-owned café is one of the most easily accessible in town. 
While almost every shop has a cold-brew offering, High Five's Buzz Chill is a cold brew like no other. It's created via a process called wort-chilling. The Buzz Chill uses a single-origin coffee from Oaxaca, Mexico; the flavor notes of the cold brew are supplemented with a topping of local mountain honey-infused cold foam and a dash of cinnamon. In addition to the Buzz Chill, you should also check out their regular rotation of barista-created specialty drinks.
Bloody Basil at Rowan Coffee
At first sight Rowan Coffee seems to be your average coffee shop, with the standard selection of well-known beverages we're pretty much all used to. Once you start looking deeper into their specialty beverage menu, however, you'll soon find yourself diving into an expanded world of flavor. Ingredients include fresh herbs, juices, and elixirs reminiscent of your local craft cocktail bar. The bare wooden bar and stools in combination with a vintage downtown building helps create a completely immersive Asheville experience. 
A highlight of the menu is the Bloody Basil—an espresso tonic made with basil-infused simple syrup, blood orange juice, house tonic water, and espresso. The bright citrus flavors are evident with the carbonation from the tonic water, and the combination of them and the espresso can make it feel like you've been transported to an Italian fruit orchard.
One Year Elder at Rowan Coffee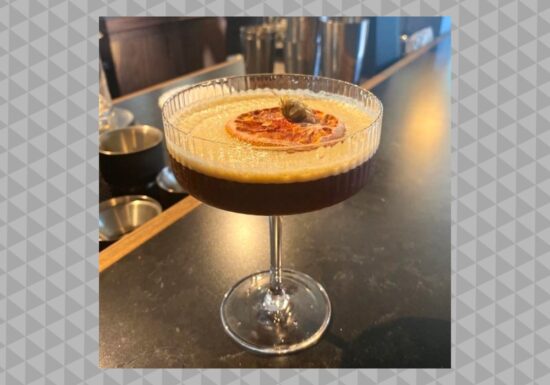 The baristas are so creative at Rowan Coffee, we couldn't help but add another drink to the list. The One Year Elder is a shaken espresso with a sarsaparilla/spice blended syrup, chrysanthemum flower, and elderberry juice. The result is a drink unlike anything I've experienced; it tastes as though chai was coffee-based instead of tea-based, with complex earthy flavors, and then the nostalgia of root beer from the sarsaparilla. The One Year Elder would rival most mixologists concoctions, and seems to be a perfect reflection of long, hot summer nights in the mountains.
Lavender Chai at Pollen Coffee and Flower Shop
You can get your beans and bouquets in the same spot at Pollen Coffee and Flower Shop. This little café on the outskirts of town embodies the soul of Asheville with its combination of art, flower arrangements, and coffee. Stick around for a workshop or grab your goods to-go—whatever brings you in, be sure to try their Lavender Chai. It features a homemade lavender syrup with signature blended chai. Either hot or iced, the bright and floral sweetness of the lavender paired with the bold and spicy chai creates a unique flavor profile that livens up any palate. 
The White Rose at Dobrá Tea
Featuring a vast tea menu with two cozy shops in town, Dobrá Tea offers delicious drinks if you want to step away from coffee for a moment. 
One of the favorites is the White Rose. It's a matcha latte like no other, blended with tahini, coconut milk, and rose water. Both the tahini and rose water enhance the flavor profiles natural to the matcha, giving it a definitive floral nuttiness. While it's popular served cold, this one also shines as a hot beverage, perfect for grabbing on your way to the trail. 
Find more of our favorite signature drinks from cafés around the world here.
About the Author
A multigenerational native of North Carolina, Zechariah Moss quit the restaurant industry after a decade to pursue his love of creative writing. While unable to escape his love for coffee, he moonlights as a freelance copy/ghost writer for friends and businesses. His office is found in multiple coffee shops across the Carolinas.


Source: Barista Magazine