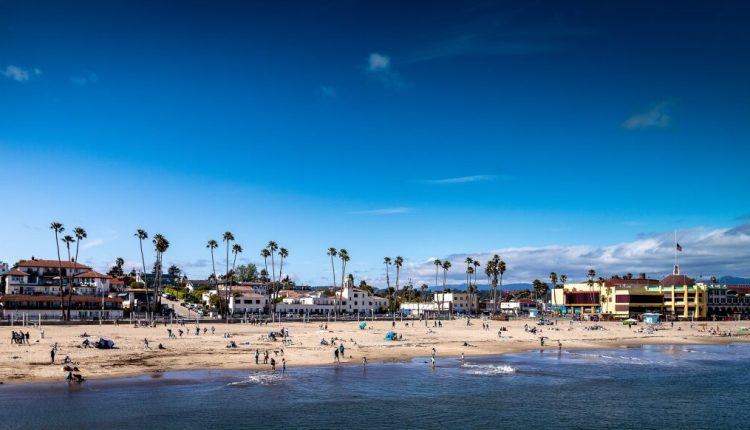 5 Stand-Out Summer Drinks from Santa Cruz, California
In a beachside city built on summer vibes, cold coffee drinks shine.
BY EDDIE P. GOMEZ
SPECIAL TO BARISTA MAGAZINE
Featured photo by James Coleman; all other photos by Eddie P. Gomez
Specialty-coffee shops have come so far and become so increasingly easy to find that it seems no matter where you go, you'll stumble on at least one great shop. Some cities, though, boast more than enough to keep a coffee lover sated all day long, and Santa Cruz, Calif., is one of them. In fact, some of the most lauded coffee companies in the world call this eclectic, coastal community—known for its surf culture, art, and boardwalk amusement park—home.
Since it's summer, the time of year when Santa Cruz shines its brightest, we took a day to sample the great, original summertime drinks on offer at five of the city's best shops. 
The Creamy Beige
Cat & Cloud, various locations
When three baristas describe the same drink to you with stars in their eyes, it's definitely one to try. Cat & Cloud baristas Dulce and Leah welcomed me warmly to the shop and kindly walked me through the list of ingredients in Cat & Cloud's most popular summer drink, The Creamy Beige.
This drink is a slow sippin' dream come true on a hot day. Made with espresso, ice, half-and-half, condensed milk, and vegan chocolate, and topped with powdered decaf, the milkshake-like drink is something to be revered: an ultra-light dessert that unapologetically delivers a flavor overload.
The granita-textured ice allows the drinker to nibble from the ice-concentrated middle or sip from the edges of the cup, where the creaminess flows, which makes the drink's consistency a formidable highlight. Notes of peanut butter emerge from the combination of condensed milk and vegan chocolate, making The Creamy Beige a taste-centered prodigy of unabashed personality, an experience worth searching out.
Lavender Cold Brew
The Ugly Mug, 4640 Soquel Drive, Soquel, Calif.
Just a stone's throw from the heart of Santa Cruz, The Ugly Mug Coffeehouse in Soquel is described by one of the baristas as "pretty ugly on purpose." The café certainly radiates an inviting mustiness that fortunately says little about the potential for coffee excellence, which has been served up to customers since 1996.
The success is the result of a trifecta: knowledgeable baristas, fabulous ambiance, and great-tasting coffee. Barista Kate was kind enough to discuss which cold drink would do the trick in lighting up my afternoon, and we settled on a simple cold brew sweetened with lavender syrup.
The cold brew at The Ugly Mug is a study in balance. The depth of flavor and lack of bitterness left in their wake an unforgettable smoothness. Accompanied by a sensory burst of lavender, the first sips lingered and fell on my palate like a slow sunset on the nearby coast.
The Cascara Jamaica Spritzer
Verve Coffee, various locations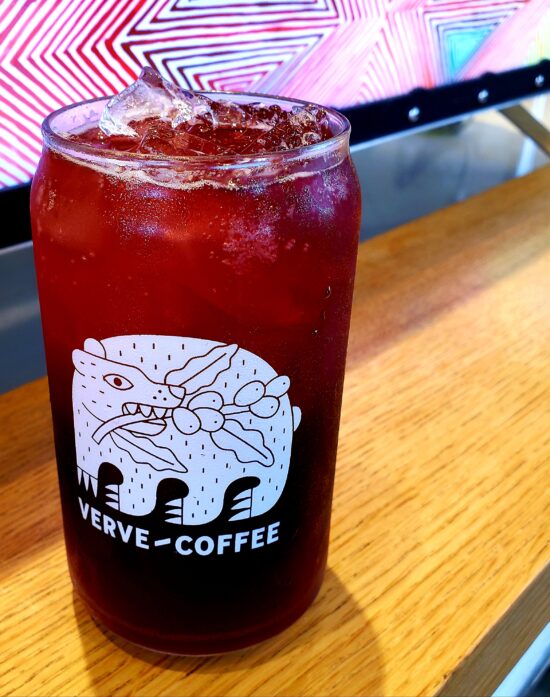 The Jamaica Cascara Spritzer is served up Instagram-ready—just what you would expect from one of specialty coffee's most iconic U.S. brands. One look at the spritzer tells the customer they're about to experience a whoosh of tropical breeziness.
The cascara-tea-based drink initially delivers a pow-like fruit punch, but a honeyed tea taste prevails. The aftertaste is dominated by the Jamaica flower's perfumed bouquet. The contrast sent my taste buds into hyperdrive, enabled by the spritzer's effervescence.
If they intended the drink for this beachy town, Verve Coffee did their homework. The drink perfectly reflects Santa Cruz's ethos: a spirited closeness to the ocean and laid-back lifestyle. The spritzer is a perfect choice for a stroll down to Pleasure Point to watch surfers ride colossal waves on a warm summer day.
Raspberry Kyoto Cold Brew
The Roxa Hammock Café, 110 Cooper St., Santa Cruz, Calif.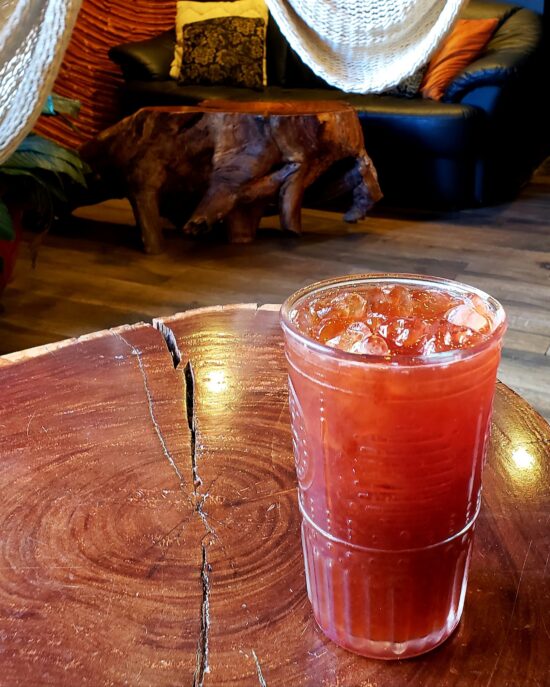 The Roxa Hammock Café is an alternative drink emporium with a California beach-goth aesthetic that intrigues as much as it invites guests to relax in one of its namesake hammocks or comfy couches.
The shop's website describes the place as "art, alchemy and organic food focused on detox and microbiome health." The menu boasts a plethora of drinks and creative combos of elixirs and tinctures crafted for health, a metaphysical connection, or just a mood-lifting Santa Cruz vibe. 
I loved how enthusiastic the baristas were in exploring the menu with me. We decided on a Kyoto Cold Brew infused with a raspberry-and-honey mash they prepared fresh with a mortar and pestle. The resulting mocktail's tea-like body and notes of tamarind finished beautifully with a light and fruity aftertaste. The only thing left to do was to ease into a hammock and do a little reading before a side trip to the boardwalk for a ride through the haunted house.
Chicory Brewed Iced Coffee
Lulu Carpenter's, 1545 Pacific Ave., Santa Cruz, Calif.
It's pretty rare to find chicory at a specialty-coffee shop, so when I saw it on the menu at Lulu Carpenter's, I had to give it a try. The woody, herbaceous plant was famously used to make "coffee" during wartime for soldiers without access to the real stuff.
The barista was kind enough to oblige when I asked to try a sample before it was mixed into the drink. I was surprised how the earthen flavors of the chicory root co-existed, with the coffee with neither intense flavor overpowering the other. In the drink, it was sweetened and finished off with a dash of half-and-half.
The taste imparted by the chicory was almost indiscernible, but still present enough for me to recognize the strange and tasty impact it had on the coffee. It proved the perfect choice to sip as I wandered through art galleries and thrift stores.
ABOUT THE AUTHOR
Eddie P. Gomez (he/him) is a freelance writer based in Modesto, Calif. When he is not substitute teaching kindergarten classes, he wanders from city to city, perfecting the art of the food and coffee adventure.


Source: Barista Magazine