5 Great Seasonal Drinks in Charlotte, N.C.
From hibiscus to matcha to tonic and more, these espresso-based drinks feature great flavors for summer and fall in the Queen City.
BY KIARA TEASLEY
SPECIAL TO BARISTA MAGAZINE
Photos by Kiara Teasley
Editor's note: Inspired by the article "Whimsical Drinks for Fall & Winter," which appears in the current—August + September 2022—issue of Barista Magazine, we asked our writers to scour their cities for some unique coffee- and espresso-based drinks on offer specifically for the season. So far, we've featured drinks in Sacramento, Calif., and Santa Cruz, Calif., by Eddie P. Gomez; and from around the East Coast by Vasileia Fanarioti. Today, we're pleased to add to our collection a list of five great drinks from the Charlotte, N.C., area. And if you would like to read the article "Whimsical Drinks for Fall & Winter"—and the whole August + September 2022 issue of Barista Magazine—for free, just follow this link!
With its Southern charm mixed with eclectic diversity, Charlotte, N.C., is fast becoming one of the most attractive cities in the South. And while the specialty-coffee scene in Charlotte may be small in comparison to other major cities, the specialty culture Charlotte does have is impressive. Charlotteans are increasingly seeking out quality and artistry, where they at one time might have settled for mediocrity and convenience.
It only makes sense then that café owners are stepping up their games when it comes to unique seasonal beverage offerings designed to showcase local ingredients and present something truly distinctive. Recently, I ventured outside of my comfort zone and indulged in five different seasonal drinks at a handful of the city's best cafés. I found that my trip was well worth the effort, and via these drinks I tasted the seasons of summer and fall in all that Charlotte and the area have to offer.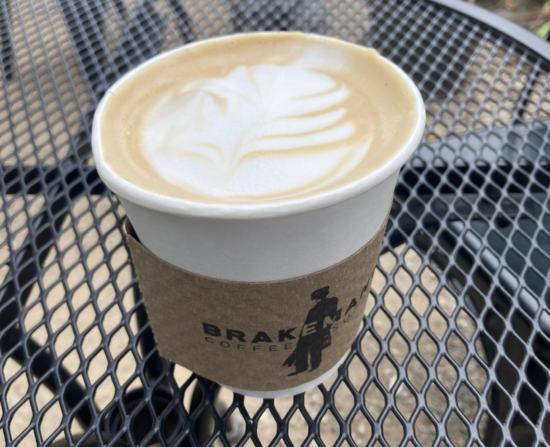 Blueberry Truffle Latte – Brakeman's Coffee & Supply
My first stop was Brakeman's Coffee & Supply, located just outside of the Queen City in Matthews, N.C., in a beautifully refurbished house. It was a cloudy afternoon and a nice break from the hot and humid summer in the Piedmont region. I took this opportunity to order a hot drink for the first time in months and settled on the Blueberry Truffle Latte. Made with in-house roasted coffee, blueberry syrup, white chocolate, and walnut bitters, this drink was a study in subtleties that all worked together in concert. The delicate flavor of the blueberry was perfectly complemented by the sweetness of the white chocolate, and the combination pushed the berry flavor to the forefront. The walnut bitters rounded out the flavor and gave the latte an understated, nutty finish.
Iced Maple Sea Salt Latte – Summit Coffee
Summit Coffee is a regional specialty-coffee shop and roasting company with multiple locations throughout the state. Although we're still living in summertime weather, Summit recently launched their seasonal fall drink menu. Being a fan of maple, I was drawn to the Iced Maple Sea Salt Latte. This drink was simple and straightforward, and proved that sometimes minimalism is truly key. The latte, sweetened with maple syrup and just a touch of saltiness, was endlessly delicious. Either hot or iced, this latte from Summit is as enjoyable on a hot summer day as it will be on a chilly fall afternoon.
Espresso Tonic – Rosie's Coffee and Wine Garden
Espresso Tonic is hit or miss for me, but Rosie's Coffee and Wine Garden hit theirs out of the park. Made with Pure Intention Coffee's locally roasted espresso, along with tonic water, falernum liqueur, and ginger, Rosie's take on an E&T is light, tropical, and leaves just a hint of berry in the finish. I honestly had to pace myself; I wanted to drink it so quickly. It was that good. Subtly crisp and sweet, this E&T was refreshing and bubbly, and a perfect choice for a day out in the sun.
Summertime Chai Latte – Undercurrent Coffee
I would've never thought to pair hibiscus with chai, but Undercurrent Coffee blew me out of the water with their exceptional Summertime Chai Latte. With its floral, fruity, and spiced flavors, this drink had it all. The flavors were perfectly balanced and went together effortlessly; I could detect the individual ingredients, but the combination added up to something special. This drink would be a favorite for anyone who enjoys herbal or fruity flavored milk tea. Bonus points: The Summertime Chai Latte from Undercurrent is as interesting and compelling as it is Instagrammable.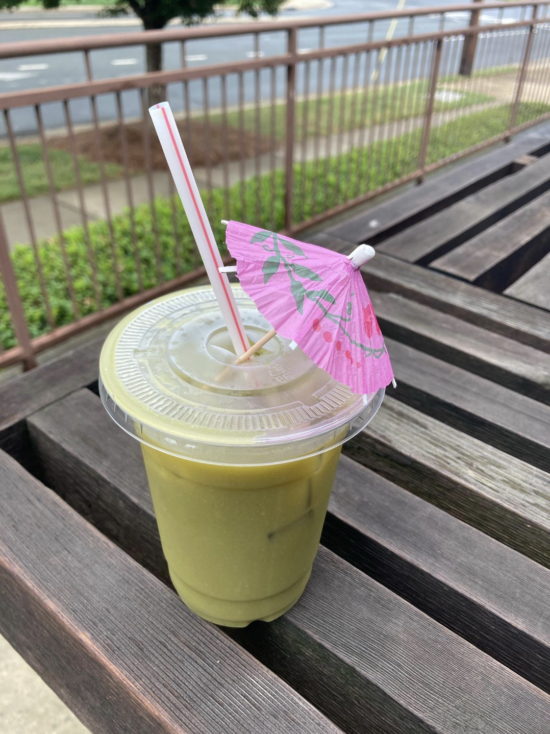 Summer Samurai – Stable Hand
Matcha lemonades aren't unique in a café, but Charlotte's Southend neighborhood's Stable Hand boasts a version with a spin on the classic: Here, the matcha lemonade has been reborn as a chilled citrus matcha called the Summer Samurai. Consisting of matcha, coconut milk, and lime and pineapple juices all shaken together, the Summer Samurai is a knockout summer drink for matcha lovers. Light and effervescent in body and texture, bright and juicy in flavor, and with a clean, tart finish, this drink is also great for a caffeine boost in the languid summer heat.
Small but thriving, Charlotte's specialty-coffee scene has more to offer all the time, and these five exceptional seasonal drinks are a testament to that. I encourage any Charlottean or tourist to explore our wide variety of quality-focused coffee shops and make sure to zero in on one-of-a-kind seasonal drinks.
ABOUT THE AUTHOR
Kiara Teasley (she/her) is a writer and Charlotte, NC native. She works for Pure Intentions Coffee, a local specialty-coffee roastery. Alongside finding quality, natural and honey processed, single-origin coffees, she enjoys reading classic literature, practicing yoga, and checking out local music shows in her downtime. 
Source: Barista Magazine