5 Great Drinks in Sacramento for the Dog Days of Summer
We showcase outstanding seasonal beverages at some of the city's best cafés.
BY EDDIE P. GOMEZ
SPECIAL TO BARISTA MAGAZINE
Featured image by Sarah Allen; all other photos by Eddie P. Gomez
California's capital city of Sacramento has a burgeoning food-and-drink landscape that never fails to excite locals and visitors alike. Specialty coffee in particular has come into its own over the last couple of decades and continues to grow and diversify in positive directions. Following the trail blazed by familiar coffee companies such as Temple Coffee Roasters—which has six cafés in Sacramento, plus one in nearby Davis and another in Folsom, Calif.; Insight Coffee Roasters; and Chocolate Fish Coffee Roasters, which boasts two Sacramento cafés and one in Folsom, newer coffee outfits in the greater Sacramento area are contributing to making the city a destination for coffee lovers.
Because the area is developing at a rapid pace, Sacramento's coffee scene still has that tight-knit community feel of a group working together for their collective benefit.
It's hot here in the summer months, and it being California, summer weather often extends far into the fall, leaving plenty of time for coffee enthusiasts to explore local cafés' sweltering summer drink options. 
I recently set out in search of five outstanding seasonal drinks on offer at some of Sacramento's best cafés, and it was even more fun than I expected. Read on for descriptions of some of my favorites.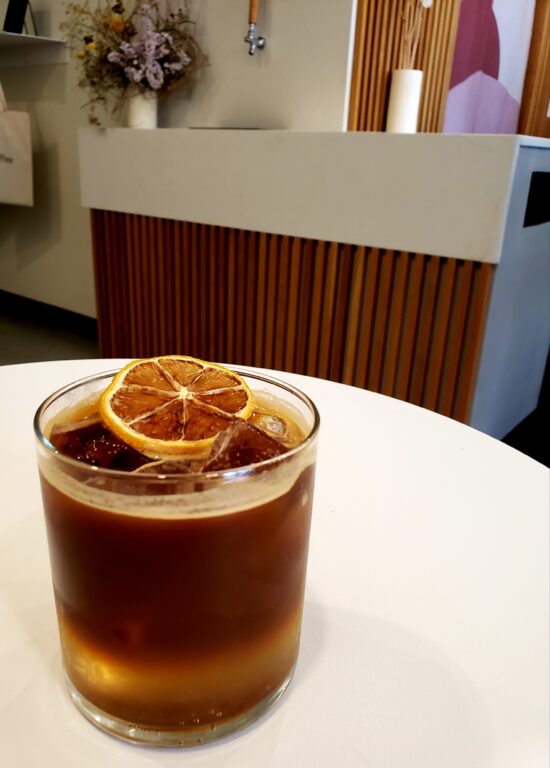 Scorpio Coffee, 1905 16th St., Sacramento
Located on a shady, tree-lined street in Sacramento's midtown neighborhood, Scorpio Coffee is especially memorable for their Espresso Tonic. I told the barista about my mission to discover some of the city's best summer drinks, and their enthusiasm about my assignment made me feel right at home.
Nick assured me he had several drinks on hand that would impress, but in the end I favored the simpler of two espresso tonic drinks on offer. This one packed a dynamic flavor punch with uncomplicated ingredients: ice, tonic, Peychaud's aromatic bitters, syrup, and a couple of shots of espresso, garnished with a dehydrated orange slice. The magic happens when the orange slice is dunked and swirled around: voilà—a citrusy balance emerges, one that is perfect for appreciating the minimalist, Japanese-influenced aesthetic of the shop.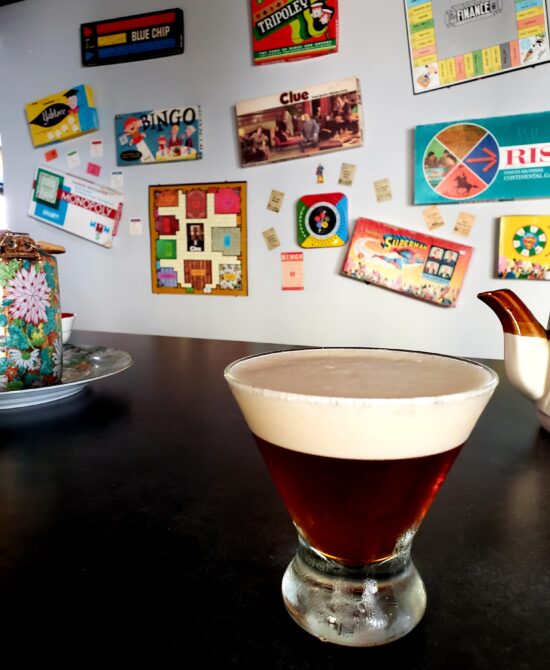 There and Back Cafe, 1020 11th Street, Sacramento
Imagine a coffee shop so cool that a wall-sized print of R2D2 and C3PO in full Edwardian dress greets visitors near the front door. There and Back Cafe, located in Cathedral Square in midtown, is also notable for its quirky Lord of the Rings theme. Guests can rent tables for playing board games, or they can sit down with a meal from the café's extensive menu (you'll want to try the hand pie, trust me!).
There was a particular stand-out on the coffee menu I couldn't resist. When the barista, Kat, mentioned that There and Back's Shakerato recipe had just been revamped, my jaw nearly hit the floor because this is a drink as hard to find as it is tasty. A shakerato is a foamy beverage traditionally made with espresso, sweetener, and ice, which is agitated vigorously in a cocktail shaker, and served in a chilled martini or wine glass.
There and Back uses a Lavazza Super Crema medium roast specially designed for shakeratos, and Kat brewed it as a pourover instead of espresso, which is unusual but made for a refreshingly flavorful drink. The promised hazelnut and cane-sugar notes were on point and made even sweeter when complemented by creamy foam so thick that I could literally eat spoonfuls of it. The Shakerato at There and Back definitely had a wow factor going on, and was a surprise treat from one of Sacramento's newest cafés.
Chocolate Fish Coffee, various locations
Chocolate Fish's East Sacramento location on Folsom Boulevard includes an outdoor dining area, stylish interior, and roasting facility under one roof. Kudos to Christian, the barista on bar when I visited, for suggesting Chocolate Fish Coffee's flash-brewed Nitro. After I explained what I was looking for, Christian thought this drink was worthy of making my list because it's built on an exceptional Brazilian coffee.
Let's cut to the chase on this one: The flash-brewed Nitro at Chocolate Fish is the best of this category of drink I've ever had. It delivers depth of taste and a chocolatey finish, and is served in a brandy snifter to complete the well-rounded experience, making it totally Instagram-worthy.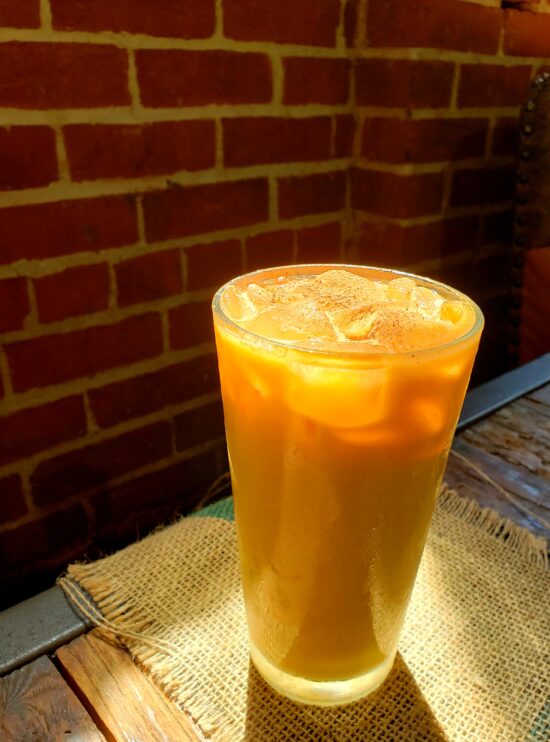 Old Soul Co., various locations
The Old Soul Co. shop you'll find in an alley right off the Capitol Mall pulses with urban charm, thanks in part to the cool factor of its neighbors: a bike shop, a brewery, and a tattoo parlor. This hidden hipster strip isn't just the perfect spot for coffee, it's also a good bet for meeting friends or just people watching.
In my ordinary coffee life—the one where I'm not 100% focused on finding bomb summer drinks—I tend to avoid lattes. So when the barista at Old Soul suggested one, I politely declined and asked about other options. After all, I was after the best of the best in Sacramento—drinks so refreshingly tasty and exciting that I'd talk about them for months. It hadn't crossed my mind that a latte could make the list until Perri the barista insisted for a second time that I try the Iced Vanilla Spiced Turmeric Latte at Old Soul Co., made with shots of Remedy espresso and Alchemy turmeric. Spicy with a gingery twist not often paired with milk and coffee, this latte had me rethinking my usual choices.
Temple Coffee Roasters, various locations
I'm not even sure if it's legal to put two espresso tonics on this list, but since both entries are magnificently crafted in their own style, I'm going to do just that. The Temple Coffee espresso tonic I enjoyed at the roaster's Ninth Street location is such a sophisticated drink that I felt I should be dressed up when consuming it. It's fancy for sure, but the fizzy espresso tonic is also priced reasonably.
Named The Great Day, this espresso tonic contains Topo Chico mineral water, Temple's Dharma Espresso Blend, orange syrup, wild berry sugar, and a thick, fresh orange slice for garnish. The citrus elements burst with an amazing tanginess helped along by the wild berry sugar rimming the glass. The Great Day serves as a perfect reminder of why Temple Coffee is not only one of the best roasters on the West Coast, but in the nation.
Interested in more summertime drinks? Check out Eddie's report from Santa Cruz here.
ABOUT THE AUTHOR
Eddie P. Gomez (he/him) is a freelance writer based in Modesto, Calif. When he is not substitute teaching kindergarten classes, he wanders from city to city, perfecting the art of the food and coffee adventure.
Source: Barista Magazine