4 Cool Coffee Shops to Visit in Bordeaux
This French city known for its wine also has a growing reputation for its fantastic coffee.
BY TANYA NANETTI
SENIOR ONLINE CORRESPONDENT
Cover photo by Michael via Unsplash
Bordeaux is synonymous with wine, and it's easy to see why: After all, the first vineyards were planted here almost 2,000 years ago by the ancient Romans. The wine produced in this area is now considered among the best in the world. 
But in recent years, a new trend has emerged in the city. Thanks to the new expats and an ever-increasing number of foodies and drink lovers who travel to the area, Bordeaux has seen the birth of a new movement. Specialty-coffee shops and roasters started appearing in the city, and it quickly became such a trend that in December 2018 the first edition of the Bordeaux Coffee Map was released.  
What follows is a short list of four cool specialty-coffee places in Bordeaux—perfect places to spend a day wandering around town, waiting for the right moment to start drinking wine!   
La Pelle Café 
Parking the car along the river Garonne, just north of the city center, is perfect if you want to start enjoying the city in some of its less touristy neighborhoods. 
Here, seated in the bohemian Rue Notre Dame and close to the historical Palais du Capitole, La Pelle Café is a delicious first spot to grab an espresso and start exploring the city. 
Serving a lunch and brunch menu with an Asian twist, delicious coffee roasted in-house by owner Carlos, and delicious pastries baked by co-owner Paola, La Pelle definitely offers something for everyone.
Sip Coffee Bar 
Walking toward the crowded downtown area, one of the first cafés you come across is Sip Coffee Bar. It's a fairly large space (compared to many other small cafés) with two floors, perfect for meeting a group of friends or relaxing with a book in one of the comfortable leather couches. 
Tasty espresso-based drinks and pourovers come from a selection of coffees from several European roasters (at the time of our visit, KB from Paris and The Barn from Berlin were among those featured), and the homemade food is tasty and perfect for a weekend brunch. 
Black List Café 
Only a four-minute walk separates Sip Coffee from the next stop on the list, Black List Café. But if you're not quite ready for another round of coffee, you're in the right place to be a proper tourist. 
Nestled perfectly in the square that divides the two coffee shops, the Cathédrale Saint-André de Bordeaux is a beautiful 11th century Gothic cathedral. Gather your energy and climb the bell tower for a breathtaking view of the city, then descend the 229 steps and you'll be magically ready for another coffee! Black List is definitely where you want to stop after.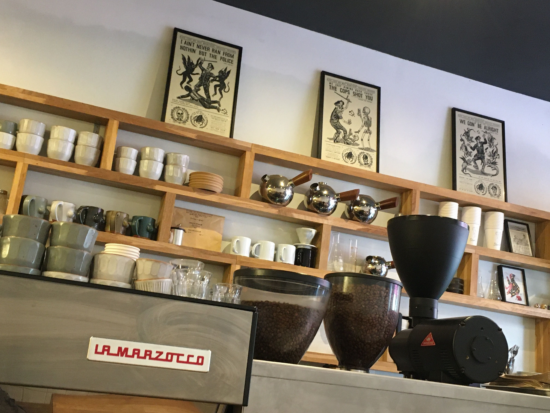 Pourovers and espresso from various French roasters, amazing cookies, and a tiny and cozy space all cleverly mix for an industrial vibe at Black List, with cool art and a chill atmosphere. And, if you want more, just around the corner the same team bakes tasty artisan donuts at Snickelfritz.   
Café Piha 
Another short walk will bring you to the last cup of coffee of this long caffeinated day. 
Pierre and Carole, the couple behind Piha, imagined the café as something that would reflect their personal story. 
In 2008 Pierre moved to New Zealand, following his passion: kitesurfing. During his years in New Zealand, he fell in love with Piha Beach (his favorite playground) and with his new job: being a barista. 
It took him almost a decade to decide to return to France, but when he did he had clear ideas about what to do next. Together with Carole, his partner, Pierre opened the doors of Piha in February 2017.  
Café Piha is warm and cozy, filled with the sweet scent of house-roasted coffee. With comfortable sofas, a small terrace overlooking the street, and a menu that also includes natural wines, Piha is definitely the perfect spot to relax at the end of the day. Have your last cup of coffee … or maybe your first glass of wine!  
ABOUT THE AUTHOR
Tanya Nanetti (she/her) is a specialty-coffee barista, a traveler, and a dreamer. When she's not behind the coffee machine (or visiting some hidden corner of the world), she's busy writing for Coffee Insurrection, a website about specialty coffee that she's creating along with her boyfriend.


Source: Barista Magazine