3 Enduring Cafés to Discover in Philadelphia
Through the pandemic and beyond, these coffee shops have solidified a place for themselves in the Philly coffee community.
BY EDDIE P. GOMEZ
SPECIAL TO BARISTA MAGAZINE ONLINE
Cover photo by Action Vance via Unsplash
Philadelphia's specialty-coffee community is tightly woven, and still experiencing the effects of a tumultuous two-year hiatus from the normalcy that once guided the industry. A few things about this precarious situation have become apparent: Some cafés were simply not able to withstand the challenges of the pandemic and shuttered, while hopefuls jumped into the fray and started new ones. Meanwhile, the industry icons persist, ready and willing to take on whatever post-pandemic challenges show up on the continually changing landscapes of specialty coffee. Here are three cafés thriving in Philadelphia despite adversity.
Rowhome Coffee
Hugh Morretta and Eli Shaika spent long hours planning the café they envisioned. The two Delaware County-area natives remained good friends after high school, consistently exploring a shared interest in craft food and beverages. Career changes, along with the uncertainty that made people question work-life balance during the pandemic, helped Hugh and Eli to finally make the decision to open their café.
Situated in the Fitler Square neighborhood, Rowhome Coffee opened in January of 2021, occupying a beautifully repurposed barroom that most recently served as a café. All of this is set amid the quiet, rowhouse-lined streets that, according to Hugh, "are uniquely 1800s in design and quintessential Philadelphia."
Rowhome Coffee relies on Hugh's experience as the former manager of La Colombe's single-origin coffee line to offer customers the best coffees from around the world, but also selections that pull them out of their comfort zones. "We'll also search out coffees that are hard to find and perhaps a bit too funky for the mainstream crowd," says Hugh. The café has so far has had great success, so it comes as no surprise that Rowhome Coffee is opening up another brick-and-mortar location in the Kensington neighborhood, an expansion of their walk-up that currently offers only to-go orders.
Stop by during the week and you are bound to meet some of the friendliest baristas in Philly before taking in the relaxing mood from one of the outdoor seating areas. 
Elixr Coffee Roasters
Elixr's flagship store in Center City is a respite from the frenetic pace of life in Philadelphia. With cool, refurbished wood paneling, a psychedelic mural on display by local artist Jeremiah Jordan, and plenty of coffee gear to keep onlookers busy, the space comforts even when it overflows with customers.
Started in 2010 by Evan Inatome, Elixr Coffee is the gold standard on the Philly specialty-coffee scene. After more than a decade in existence, the company features four locations in the Philadelphia area, a café in State College, Pa., and a recently opened extension in Nashville, Tenn. 
My visit featured a delectable, lightly roasted pourover from Ethiopia, yet what caught my attention was the dexterity with which the barista managed simultaneous pourover and espresso-based drink orders. Barista and longtime coffee worker Emmett Chupein then came around the bar to ask about how my coffee was, a telltale sign and a cue for a fruitful conversation about specialty coffee in Philadelphia.
Elixr Coffee embraces a nuanced approach to business, which emphasizes a positive accord between management and labor, something that ensures baristas at Elixr are happily employed. This unique philosophy has been a part of the company since its early days. "We are trusted to be top-level professionals without being micromanaged. That freedom of expression, and the transparency with which Elixr operates, gives us the motivation to care about our customers," says Emmett.
Emmett also described Elixir's recent success during the U.S. CoffeeChamps in Boston, where employees placed in both the Barista and Roaster Championships. With that type of momentum and their soulful approach to coffee, the team at Elixr Coffee Roasters is guaranteed to thrive indefinitely.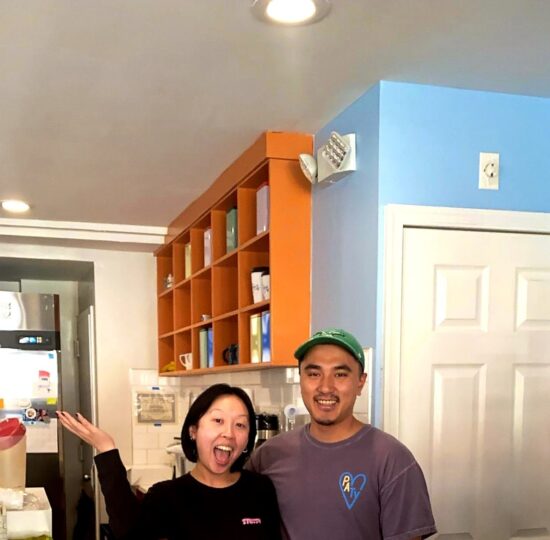 Jiggy Coffee
Jiggy Coffee dropped into Philadelphia during the height of the pandemic. The café is a partnership between two area natives, Jacalyn Shou and Jonathan Lee, formerly of Old City Coffee. 
The sunlit cafe is alive with neighborhood charm and the collaborative hustle of its two owners. Locals, young professionals on the way to and from work, and visitors converge on the scene to get their coffee game going and practice community. Features include a Synesso S Series espresso machine and Small Planes Coffee from Washington, D.C. Also offered are pastries, teas, and signature espresso drinks, along with their popular matcha cappuccinos.
My winter orange cappuccino was just the deliciousness needed to watch the action unfold on a chilly morning. Regulars streamed in and marked their territory by exchanging hellos and starting conversations. Many chatted with Jackie and Jon, both of whom are so cordial that guests can't help but root for them to hit their stride in a city already famed for its network of specialty-coffee shops. 
ABOUT THE AUTHOR
Eddie P. Gomez (he/him) is a freelance writer based in Modesto, Calif. When he is not substitute teaching kindergarten classes, he wanders from city to city, perfecting the art of the food and coffee adventure.
Source: Barista Magazine