3 Cool European Multi-Roaster Coffee Subscriptions
Variety is the spice of life with these three excellent options for multi-roaster subscription services.
BY TANYA NANETTI
SENIOR ONLINE CORRESPONDENT
Cover photo courtesy of The Coffeevine
In recent years, the specialty-coffee market has developed a new way of introducing coffee roasters. In addition to visiting roasters and coffee shops, or buying from the website of specific coffee roasters, specialty-coffee lovers can now opt for a different choice: a multi-roaster coffee subscription. 
Many options are available for those who want to try something new: tasting sets, a selection of roasters from a specific region, and even coffee and chocolate pairing.
Here are three European multi-roaster subscriptions worth checking out. 
Videos to Vendors
The Right Roast was born almost a decade ago when, in 2013, a fun and educational YouTube channel was created by a magic duo: husband and wife Tim and Aiko.
Tim (the "muscle") was already a filmmaker at the time, and soon became the face of The Right Roast. Aiko chose to stay behind the camera as a producer, basically becoming the "brains" of the operation. 
Lovers of specialty coffee, they created The Right Roast to spread the word about third-wave coffee (still new at the time). They began shooting videos around the world, interviewing coffee friends, sharing recipes, and much more. At the same time, they began to sell coffee selections at London's market stalls. 
The Taster Set
As the project evolved, Tim and Aiko had a new idea: a unique subscription service called Taster Set featuring three coffees from a different city. Each was paired with bonus videos made by the couple.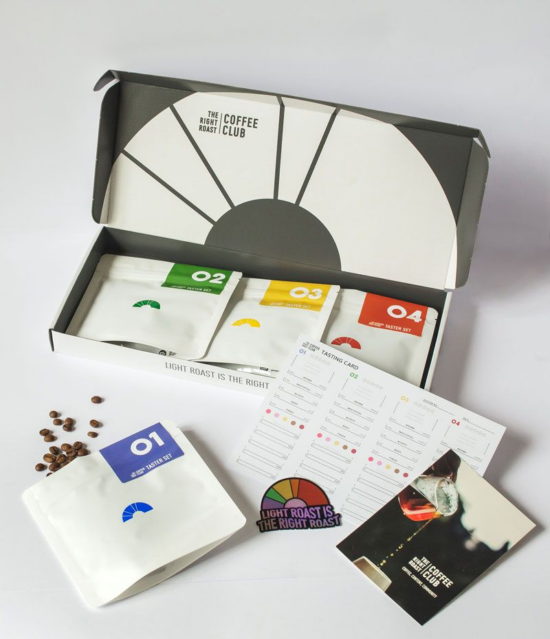 In the years that followed, the Taster Set evolved further and became what it is today: an attractive (and interactive), theme-based European filter coffee subscription. Every month features four different European roasters selected according to a specific theme.  
Roasting machines, African coffees, acidity, and even pudding as a specific coffee taste are just some of the themes featured in the set (which offers four 50g bags and costs about $24 USD). All are accompanied by interviews with roasters, live cupping, and coffee champions' recipes for brewing a specific coffee included in the set. 
The Classic KaffeBox
KaffeBox is a Norwegian-based coffee subscription that exclusively features small-batch Scandinavian roasters; the key here is light roasting.  
Launched in 2014 and now shipped to customers all over the world (50 countries and counting), KaffeBox features two coffee bags from a single roaster each month. Each roaster chooses the coffee and roasts it specifically for the KaffeBox. 
The box costs about $36 USD for two 250g bags and offers small lots, Cup of Excellence coffees, and new exciting offers. Additionally, each bag of beans you receive provides three months of clean water to a person in a developing country via Water.org. 
Chocolate Pairings
As an alternative to the classic box, for around $17 USD more they also offer an interesting KaffeBox Chocolate Pairing subscription: a tasty pairing between the monthly featured KaffeBox roaster and a rotating selection of small batch, bean-to-bar chocolate makers. 
As with the KaffeBox specialty-coffee subscription, ethical trade, transparency, sustainability from grower to consumer, and a high-quality product are the priorities here. By choosing this option you can taste handmade craft chocolate from chocolate makers who source their products in an ethical, sustainable manner, building personal and direct relationships with cocoa farmers and suppliers.  
Most of the chocolate featured will be single-origin dark chocolate (to fully highlight the raw product). Sometimes you'll get milk chocolate and flavored bars—whatever goes best with the included coffee. 
Advent Calendar
Last but not least, during the holiday season KaffeBox also distributes a popular advent calendar. It features 24 days of coffee from 12 different Scandinavian roasters—50g each day—in elegant, festive packaging.  
From Guide to Guru
The Coffeevine began in 2012 as Alex Kitain's personal guide to the best specialty-coffee bars, at a time when the third-wave coffee scene was just taking off in Europe. 
In 2014, Alex launched a coffee subscription service with the aim of showcasing the world's most delicious coffees from exciting roasters every month. Over the years, The Coffeevine has worked with over 300 roasters from around the world, shipping thousands of coffee boxes to customers in more than 100 countries. 
Their Process
The Coffeevine has a tasting panel consisting of professional baristas, roasters, and competition judges who join Alex and his team once a month to blind-taste and rate the large number of coffee samples they receive.  
At the end of each cupping session, they select the tastiest coffees as a group to put in the next subscription box. This ensures that each roaster gets a fair chance of being featured—all coffees are chosen solely on the basis of craftsmanship, quality, and taste. 
Options
Every month the Coffeevine offers a selection of three coffees (from three different roasters) that can be purchased in different-sized boxes. From the S box (about $16 USD if you choose to buy only one of the three bags) to the XXXL box (which for about $74 USD will have 1.5kg of coffee delivered to your doorstep), there's certainly something for everyone.  
ABOUT THE AUTHOR
Tanya Nanetti (she/her) is a specialty-coffee barista, a traveler, and a dreamer. When she's not behind the coffee machine (or visiting some hidden corner of the world), she's busy writing for Coffee Insurrection, a website about specialty coffee that she's creating along with her boyfriend.


Source: Barista Magazine