3 Berlin Cafés Off the Beaten Path
These spots are local favorites for grabbing brews outside the city center.
BY TANYA NANETTI
SPECIAL TO BARISTA MAGAZINE ONLINE
Berlin, besides being a city rich with engaging history, also happens to be regarded by many as one of the European capitals of specialty coffee. I remember living in this city with such joy because I could actually spend three months visiting a different specialty-coffee shop every day.
While most of these places are located in the more central boroughs of Mitte, Kreuzberg, and Prenzlauer Berg, there are also plenty of specialty-coffee shops off the beaten path. Below are just a few of the many cafés that I frequented during my time in Berlin.
The Barn @ Café Kranzler, Charlottenburg 
The Barn is pretty well-known in the specialty-coffee community, given that it has been around since 2010. These days, coffee people from around the world make it a point to stop at one of their several locations when visiting Berlin. However, not many go as far to reach the outer borough of Charlottenburg.
One of the Barn locations is inside the historic Café Kranzler, which originally opened in 1932; in the '50s, it became a major tourist attraction in West Berlin for its picturesque terrace on the second floor and spectacular city views.
Although the Barn suggests enjoying the terrace during ideal weather, I actually love to visit around December, when the wind is freezing and the days are short. My hot beverage allows me to sit outside and just enjoy the view. 
During the holiday season in particular, the whole city glows with lights, the streets are bustling, and there are good vibes all around. Just around the corner, the Kaiser Wilhelm Memorial Church and its Christmas Market are great stops to make afterward.
The high-quality coffee, skilled baristas, and unique location make this a worthy "step back in time."
Home: Brewing & Kitchen, Neukölln 
Imagine being an expat far from home; sometimes the homesickness kicks in and you look for a place that just feels familiar. Of course home can be something different for everyone, but there are some common features. It usually feels cozy and full of friendly faces ready to welcome you. It often has your favorite comfort food and your go-to coffees, too.
And that's exactly what Home is. Set in a small, unassuming alley in the far corner of Neukölln, this tiny LGBTQ+-friendly space offers a varied selection of European coffees. When I visited, the main offering was by Nomad Coffee from Barcelona, together with another local Berlin roaster. The offerings also expand beyond coffee to include a short menu that mostly caters to a vegetarian crowd, along with a ton of house-made cakes.
It is a perfect place for lunch, but also to spend an afternoon with your favorite book, a V60, and a big slice of cake—nothing better to cure homesickness.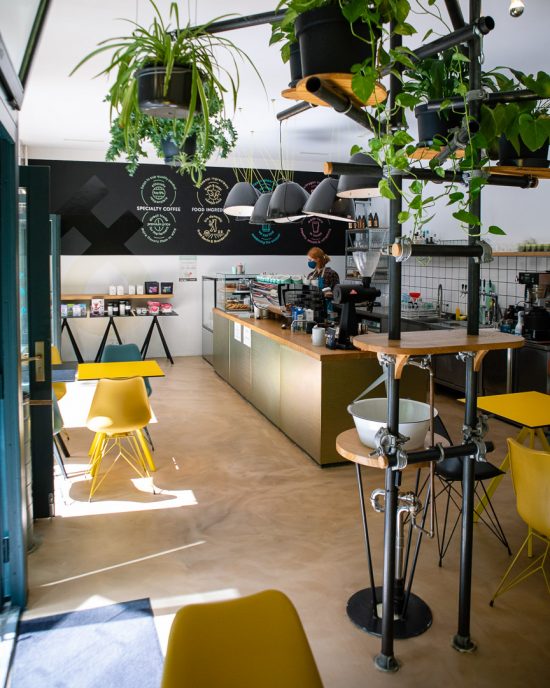 Happy Baristas, Friedrichshain 
Many of us would like to believe that brunch was invented as a perfect excuse to drink alcohol before lunch, right? But what if the brunch cocktails were coffee cocktails? In this case you don't need any excuse!
A coffee cocktail is perfect for many moments of the day. Together with coffee from various European roasters, five nitro taps on the bar pouring drinks like the nitro Oatly latte, and nitro cold brew Martinis, you can expect to find a little bit of everything at Happy Baristas. 
Stationed in the emerging borough of Friedrichshain, the quaint space has a robust brunch menu, along with a set of freshly baked cakes. There is also a special appreciation for the vegan cakes, with unique creations like the chocolate tahini loaf with flaky sea salt. 
ABOUT THE AUTHOR
Tanya Nanetti (she/her) is a specialty-coffee barista, a traveler, and a dreamer. When she's not behind the coffee machine (or visiting some hidden corner of the world), she's busy writing for Coffee Insurrection, a website about specialty coffee that she's creating along with her boyfriend. 


Source: Barista Magazine