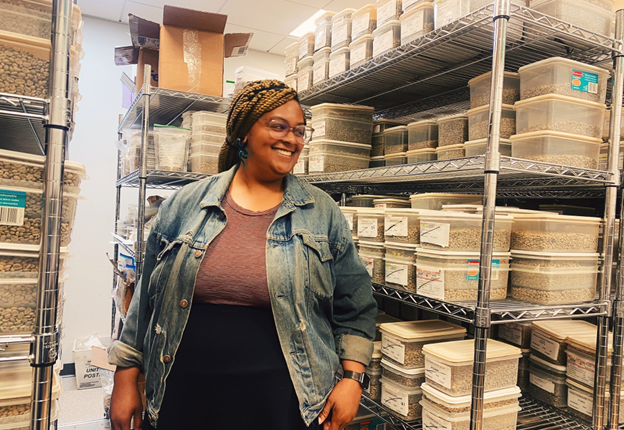 10 Minutes With Porttia Portis
From barista to coffee educator: Porttia Portis talks about her plans after the NKG PACE program. 
BY VASILEIA FANARIOTI
SENIOR ONLINE CORRESPONDENT
Photos courtesy of Porttia Portis
NKG PACE is a quality-control training program designed to create opportunities for Black Americans and increase diversity in the coffee industry. The program, a collaboration between Neumann Kaffee Gruppe and the Coffee Coalition for Racial Equity, launched last May. (You can read more about NKG Pace in the October + November 2022 print issue of Barista Magazine here.)
In this exclusive interview, we sit down with Porttia Portis (she/her), a participant in the NKG PACE program, to discuss her experience in the coffee industry and her post-program plans.
BMag: So, Porttia, what made you want to apply for the NKG PACE program? 
Porttia Portis: During the summer of 2020, I was ready to quit working in coffee despite how much I loved it. I was exhausted not only from the strain of being an essential worker during the height of the pandemic but also from existing in predominantly white coffee spaces that refused to validate me as a Black woman. I came across the NKG PACE program after finally finding other BIPOC coffee professionals who were committed to increasing diversity and inclusivity in coffee, and thought that my silent prayers had been answered. It's been a ride ever since. 
What has the experience been like so far?  
The experience has been more affirming than I was expecting. In the decade I've worked in the coffee industry, I was always treated like an outlier, as if it were a shock that I could be so knowledgeable about coffee. During the first week of the program, the instructors made sure that the other two participating Partners and I knew that we were there for a reason, that our experiences weren't in vain.  
It was the first time I truly felt seen while working in the coffee industry. It was validating to meet other Black coffee professionals with different yet ultimately similar experiences of being met with resistance at every turn. We were all stubbornly committed to our careers in coffee in order to create spaces for others like us, and it felt like a huge weight off of my shoulders to finally receive support on an institutional level. 
What has been the most challenging part of your transition into the coffee industry? 
Literally being a Black woman. I've constantly had to prove myself for the most basic things. I can't count the amount of times I've been lied to and about, called out of my name, threatened to be fired and had my experiences dismissed all because I was the only Black person in the room. People always look for macro expressions of racism in the coffee industry, but some of the most insidious forms of racism and discrimination are microaggressions.  
I try to acknowledge how much privilege I have in these situations because I have lighter skin, which tends to make white people feel like I'm in closer proximity to them because they assume that I'm mixed with white. The second they find out that I'm not, their behavior changes and I'm treated differently. I've learned to use these experiences as a marker of whom I can and cannot trust, but also as a way to advocate for other BIPOC as fiercely as I can. If I'm being let into these "exclusive" spaces, I might as well use this purported privilege to fight for equity. 
Do you believe that this program will open more doors for you in the coffee industry? 
I definitely believe that this program will open more doors for me in the coffee industry. The coffee industry values experience and accreditation just as much as any other industry, and the NKG PACE program is doing a great job of teaching the Partners and I about all aspects of coffee. I feel like the education I'm receiving can be applied in so many different instances. 
I understand that you have moved to Seattle to work with Atlas Coffee Importers for the purposes of the program—what has been your favorite part of the job so far? 
My favorite part of the job is a tie between cuppings in the QC lab and assisting with the outbound sampling system. I love cupping with the QC department because of how much I'm learning about the sensory aspects of coffee, as we constantly dissect the differences between tasting and drinking coffee.  
We also just have a good time chopping it up about life. On the other hand, I love helping with outbound sampling because I get to learn more about coffee in its green stage, and it's ultimately satisfying to complete a task from start to finish. It scratches a weird part of my brain that only feels productive when I can see the outcome of my work.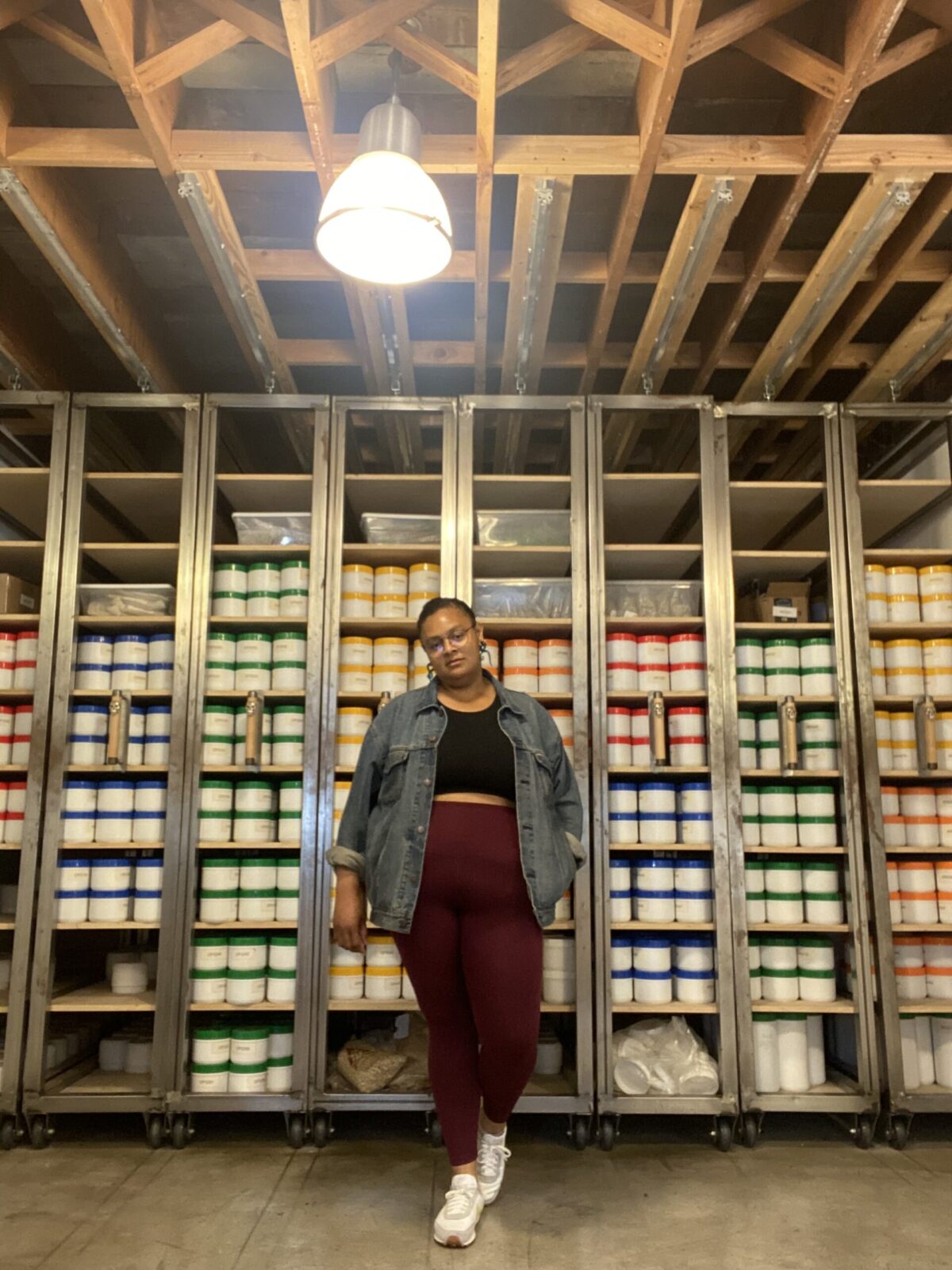 What are your coffee industry-related goals after you complete the program? 
My goal is to become a coffee educator/instructor because I want to teach more BIPOC about all things coffee, whether they want to pursue a career in the industry or just want to know more about the coffee they drink. I've had so many conversations with people from all walks of life about coffee, and I was genuinely surprised at how much people want to know more about it.  
I used to think that it was just baristas who geek out about coffee, but I realized through these conversations that more people would be willing to learn if the information was more accessible to them. It makes me happy when people learn about the specific flavor attributes that draw them to coffee, or when baby baristas realize that they could genuinely make a career out of coffee and not be looked down upon. I think baristas of the future could be just as respected as sommeliers and cicerones, and I hope to be a part of that world. 
What would be your advice to someone who is thinking of applying to the  PACE program? 
DO IT! Like I previously mentioned, I was ready to quit coffee completely before joining the NKG PACE program. I would've done literally anything else to avoid feeling the deep-seeded resentment I felt at that time, but some little nagging voice in my head told me to keep pushing. Soon that nagging voice in my head became an outward voice from others who recognized how much of my heart and soul I poured not only into my work, but into the other baristas around me and the community we served.  
When I first told the people in my life that I was thinking of applying, they ALL immediately told me that I'd get it. It was hard for me to accept how much they believed in me because of how much I struggled with imposter syndrome, but I'm ultimately glad I listened. The last decade of working in coffee has been a long, long road for me, but joining the NKG PACE program helped me to see the forest for the trees. 
ABOUT THE AUTHOR
Vasileia Fanarioti (she/her) is a senior online correspondent for Barista Magazine, and a freelance copywriter and editor with a primary focus on the coffee niche. She has also been a volunteer copywriter for the I'M NOT A BARISTA NPO, providing content to help educate people about baristas and their work. You can follow her adventures at thewanderingbean.net.


Source: Barista Magazine